UFUMA CHURCH CELEBRATES AT 100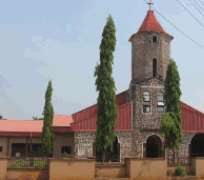 Festive drums will be rolled out in Ufuma, Anambra State this yuletide as the people celebrate 100 years of the inroad of Christianity into the land. 
The community is already agog with preparations for centenary which comes usually once in a lifetime. Holy Trinity Anglican Church, Ufuma in Orumba South Local Government Area, the arrowhead of the celebration has witnessed series of transformations since it was founded in 1910. 
The church which is in Aguata Diocese according to history was founded in 1910 after some young men from the community escaped to Onitsha for refuge following the molestation of the people by native administrators, like the sanitary inspectors who acted gods in those days.
Serendipity
'When the molestation became unbearable, some young men who thought that they could be next victims decided to run away from the village and to settle elsewhere, where they would not run foul of the arbitrary powers of the sanitary inspectors. Such people who fled the village were Messrs Aaron Okeke, Isaiah Nwangwu, Samuel Nwafor and Hezekiah Okoli. Aaron Okeke ran to Onitsha to stay with one Madam Azifuaku of Onitsha. Indeed, all of them took refuse in Onitsha before Aaron later went to stay with Amodo Enu. 
'While in asylum in Onitsha, the refugees told the pathetic stories of their molestations to their kind hosts. They also lamented that they were being singled out for such harsh treatment because they had no chief or leader to protect them. Their hosts then asked them if the gospel had reached their town and also whether they had a church; and they replied that they had never heard of anything like church or gospel. They got a promise that they would give them (the refugees) something better, stronger and more influential than a chief. The refugees were very delighted at the expectation that they would soon have something greater than a chief. Their hosts took the refugees to Archdeacon Smith and Mr. Cheethan, the missionary accountant both white men at the Anglican Missionary headquarters, Ozalla in Onitsha who gave them a letter with which to meet the principal of the Awka Training College, Rev. G. T. Basden. 
'Instead of going to meet with Rev. Basden as directed by Archdeacon Smith, the refugees rushed home to meet with their kinsmen. They summoned their Umuenebu people to a meeting at the compound of Obuekwe, where they usually gathered for mmanya eke and announced with great excitement that they were expecting what was greater than a chief in the community. Umuenebu people were excited about this information and so selected people like Onyekwena to accompany the refugees to deliver the letter.
'After reading the letter from Smith, Basden asked them from where they came and they answered Ufuma. He asked them if they knew Ndikelionwu and they answered in the affirmative. Rev. Basden wrote a letter to one Mr. Jacob Izuegbu, an Ogbunike man who was already posted and serving at Ndikelionwu as a church teacher. After reading the letter, Mr. Izuegbu fixed a date when he would come to Ufuma. 
'Meanwhile, the natives had returned to prepare and await the arrival of Mr. Izuegbu and his team. It was decided that they would be received at Obu Okonkwo Nwanyi now the Okonkwo's compound of Umuenebu because the family was considered peaceful and levelheaded. Jacob Izuegbu and his group arrived Ufuma on Afor day and were enthusiastically received. He was accompanied by Messrs Mark Okoli, William Okafor and Thomas Ajulu, all Ndikelionwu natives. As was previously agreed, they were received at Obu which later served as a Church throughout 1910 and 1911'.
 
Growth
The church from there grew from strength to strength and is today an Archdeaconry headquarters, with the record of having a training centre in the olden days. A hostel was opened for the training of young females about to be married and the hostel was ran by one Abigail Okpala who hailed from Ogbunka. 
Many women were said to have benefited from the pre-marital training as it was from the hostel that they were led straight to the altar for wedding. The centre was said to have later transferred to Ama-Nwanyi in Agulu.
Speaking to Saturday Sun about the centenary programmes, the chairman, Centenary Planning Committee, Rev. Canon Basil Orji said, 'Centenary means 100 years, so we are celebrating the fact that the gospel came to Ufuma by this time 100 years ago, to be precise in 1910. So we are rejoicing because of the light that gospel brought to Ufuma and its environs. We are rejoicing also because we are alive, witnessing the 100 years of Christianity in Ufuma and surrounding communities. So, that calls for celebration.
'We are expecting a lot of things. You visited Ufuma community and you saw that it is agog already with preparations, festivities and all the rest of them. We are rolling out our drums with a lot of activities. For instance, we will start the celebration week with a Centenary Harvest Thanksgiving. That will be on tomorrow; then, on Monday, there will be flag hoisting and carnival. So, we will hoist the centenary flag, which may stand there for the next one or two years