IGBO HOMEWARD JOURNEY BEGAN IN TRICKLES AND CLIMAX ON DECEMBER 24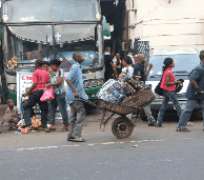 It is Christmas again. And many people have travelled to their villages to celebrate. In Lagos, the exodus of people, especially Igbo, out of the state started in trickle. It however, climaxed on December 24, when many travellers left town.
Until a few days to Christmas, it appeared as if many people were not going to travel out of town. The Sun reporter paid a trip to motor parks around the state and it was noticed that the usual frenzied activities in motor parks, where buses depart from the East, were conspicuously missing, especially between December 15 and December 21. Some people had feared that if the signs were to be believed, it appeared as if Igbo wanted to stay back in Lagos, as opposed to returning home to celebrate Christmas, as was the norm.
When The Sun reporter visited Maza-Maza, a popular transit point for travellers to the eastern part of the country, business was brisk about 6 am. that morning. Vehicular traffic had come to a halt while a crowd of anxious travellers besieged the area, struggling to purchase tickets amid the discomfort of hauling their luggage along. When it was almost 9am, the motor park was moderately busy, but the teeming horde of travellers had thinned out. It was a far cry from how it used to be in times past.
A ticketing clerk, who works for Dan Dollars motors, one of the transport companies operating in Maza-Maza, confirmed the lull in the business of transporters owing to the low number of people travelling. With her nametag identifying her simply as Ada, she confirmed that there was a dearth of travellers this year.
'Yes, people are not really travelling. This is our second bus since we started this morning and it is not even half full. We are not really having passengers. This time last year, we really had people flocking home, but this year looks different. We pray that business will pick up,' she said.
Onyekachi Anyaogo operates as a tout for Safety Links, another bus company that operates from Maza-Maza Park. While he agrees that the volume of travellers is yet to pick up, he gave an assurance that as the New Year approaches, business will pick up.
'The year is not yet ended. We will still see people coming. But for now, business is slow. We expected more people. I believe that people will travel,' he said.
Interestingly, this reporter spent more than an hour observing Onyekachi. With in the period, only two travellers turned up.
The same scenario played out in Mile 2, a few kilometers away from Maza-Maza. As opposed to the former, commercial buses whose destination is the eastern part of the country, consist solely of the smaller buses in Mile 2. The parks were devoid of the ubiquitous luxury buses. Sunny Okechukwu, says he is canvasser (a euphemism for tout) for Christly Motors, one of the transport companies domiciled in Mile 2. He says: 'We are still waiting. It is still early to say that people will not be travelling home. I know that there will be a rush for buses from the eve of Christmas until the New Year, but right now, people are not really travelling to the village,' he said.
Other commercial buses there did not fare better.
The situation at Jibowu, another popular transit point for travellers to the east, was no different. During the early hours of the morning, the axis, stretching from Yaba to Jibowu to Fadeyi along the Ikorodu Expressway, was busy with passengers thronging in to get the nearest available bus amid clusters of transport companies operating. Not quite two hours and most of the parks were noticeably scanty.
Buchi claims to work for Ifesinachi Motors, Jibowu branch. According to him; there is a paucity of passengers travelling to the East. He confirmed that the development was quite unusual.
'Yes, we don't really have much passengers, like last year. By this time last year, most passengers, found it difficult getting commercial vehicles, but this year is different. I don't know why, but I am hoping that things pick up,' he said optimistically.
Other busy travelling spots, like Oshodi and Ojota, among others, were either scanty or completely bereft of travellers.
Fabian Anyanwu, branch manager of Izu Chukwu Transport Company, Maza-Maza branch, said that there should be no cause for alarm yet, adding that towards December 25 volume of passengers would increase. According to him, it would be premature to say easterners were no longer going home for Christmas. 'I don't think that there is any cause for concern. From what I have observed, people will travel to their villages in the East. It is a culture that cannot just change overnight. Maybe it is because we are still in the early periods of the season. As the days go, towards December 25, people will start travelling home in droves,' he said.
He was also emphatic that the spate of kidnappings reported in the East could not discourage the Igbo from returning home. 'My people will never be afraid of going home. Whether the kidnapping continues or not, people will still go home,' he said confidently.
Mr. Chuks Okereke doubles as the business development and brand manager of Ifesinachi Motors, Jibowu branch. He also shares the same opinion.
'We can't pass judgment yet. Anything can happen between now and the 1st of January. Let us not rush into judgment that many people are not going home for Christmas. The rush hour could start anytime from now. The number of people travelling this year maybe higher or lower compared with other years, but be assured that people will travel. There is still hope that the turnout of people going to the East will increase,' he said.
According to him, the average Igbo man's bond with his hometown was stronger than any economic or security problems that maybe occurring in the East. 'Look, we have a strong bond with our home land. I must say that the economic situation or not, easterners will always go home. Nothing stops them. They go there because it is an opportunity for them to go and see their people. Personally, I would have loved to go home to see my people but for the nature of my job. I don't think it is because of economic reasons or insecurity. The East is very safe. I haven't heard of kidnapping for some time now. In fact, kidnapping has been reduced drastically. But whether kidnappers continue or not, people will still travel home,' he assured.
Still on the issue, Mr. Okeke said people travelling with buses were not in immediate danger of being kidnapped. 'The fact is that majority of people who travel by road are mostly the low and average class people. The high-class people would rather travel by air. So road users ought not be afraid of kidnap incidents while travelling,' he stressed.
The Sun spoke to some travellers and most of them expressed optimism that the mass exodus would continue. Julaina Uche, a housewife who was travelling with her two children to the village, said they had to make the trip notwithstanding the obstacles her family faced.
'We just had to go. It has not been the best year for us, but we still decided to go home. It has been a big part of our lives to travel to the village for Christmas. Our family is expecting us already. As you can see, my husband is not here with me, but he join me later,' she stated.
She also confirmed will that the park was noticeably scanty compared to previous years. 'I agree that we don't have as many passengers travelling to village. I can't give any reason, but I want to hope that it is because of the fear for kidnappers. I was told by people in the village that all is well and the East is safe; so there is no cause for alarm,' she assured.
Anderson Okonkwo, a Lagos-based businessman, is also going home. Though he admits that the flow of people travelling to the village was somewhat reduced, he stated that the number of travellers would increase. 'Remember that the New Year's celebration is much more prestigious than Christmas. Maybe it is not possible for Igbo in Lagos to travel for Christmas celebrations because of their jobs. You may find an increase from December 26 to the December 29, so it maybe too early to draw a conclusion.
Saturday Sun, however, observed increase in the number of travellers between December 23 and December 26. In most bus terminals, travelers were massed, struggling to board luxury buses. In most of the offices of popular transport companies, buses had been fully booked till December 28. With the increase in the number of passenger travelling, fares also went up. From December 23 to December 25, luxury buses charged between N5, 000 to N6, 500.