JONATHAN CHARGES NIGERIANS TO EMULATE CHRIST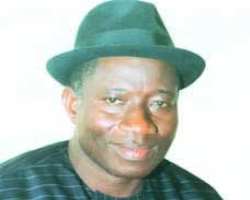 President Goodluck Jonathan
President Goodluck Jonathan has conveyed his best wishes for peace, joy and prosperity to Nigerians as the nation celebrates Christmas. His Christmas message called on Nigerians to rededicate themselves to the ennobling ideals and virtues of faith in God, love for others, selflessness, honesty, peaceful co-existence, tolerance and dedication to duty which Jesus Christ preached and which
his life on earth exemplified.
The message signed by the Special Adviser to the President on Media and Publicity, Ima Niboro, has a call by Jonathan challenging that if more Nigerians imbibed these ideals and virtues, and made them more evident in their daily lives, Nigeria will undoubtedly be better.He also urged Nigerians to use the opportunity of the Christmas holidays to reflect, and commit themselves to contributing much more positively, in any way that they can, towards making Nigeria a better country.
He noted that peace, stability and good governance are essential building blocks for national progress and development, the President reaffirmed his administration's determination to ensure that next year's general elections are peaceful and free of violence.
President Jonathan urged all eligible Nigerians to register and vote to strengthen  the democratic institutions of governance in the country with the assurance that his administration is fully committed to protecting the sanctity of votes in the 2011 elections. He prayed that God should grant Nigerians a very merry Christmas and prosperous new year.
In the same vein, his wife, First Lady, Dame Patience Jonathan has urged Nigerian Christians to emulate the virtues of Jesus Christ who came to redeem mankind.
Mrs. Jonathan noted that among the teachings of Christ, whose birth is being celebrated at Christmas, are selflessness, love, peace and tolerance.
She urged all Nigerians to demonstrate a spirit of love and brotherliness by sharing with the less privileged in the society during this peroid so that they too can experience joy of rebirth which the yuletide entails.
The First Lady also advised Nigerian women to use the period to strengthen their family bond. She instructed that once the family is united and at peace, the society generally will enjoy peace and progress.