ARMY WILL SECURE ALL OIL PIPELINES –IHEJIRIKA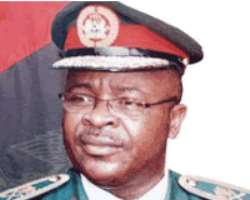 The Nigerian Army said it would provide adequate security to Oil and Gas pipelines across the country, promising to spoil business for vandals.
Chief of Army Staff, Lieutenant General Azubuike Ihejirika who disclosed this in Abuja Wednesday when he received the Group Managing Director of the Nigerian National Petroleum Corporation (NNPC) Engr. Austen Oniwon assured of the readiness of the Army to support the NNPC in mitigating the effects of the activities of vandals on oil pipelines and promised that a dedicated Army team will immediately be assigned to the two oil pipelines that are central to the operations of the three refineries in the country.
He said that in line with his vision upon assumption of office, the Nigerian Army would transform and rise to the occasion to meet the challenges of contemporary Nigerian society, stating that the collaborative efforts with the NNPC was to bring to an end the incessant vandalization of petroleum products pipelines across the country especially the Niger Delta region.
Earlier, the NNPC GMD noted with dismay that the recurring damage of oil pipelines by vandals have impacted negatively on the operation of the Country's Refineries.
He implored the Chief of Army Staff to particularly deploy his men to step up surveillance on the crude pipeline from Bonny to Port Harcourt refinery and the Escravos pipeline to Warri and Kaduna Refinery saying that the refineries have been shut down temporarily because all the aforementioned pipelines have been severed.
'The rate of the crude pipeline vandalisation from Bonny to Port Harcourt refinery and the escravos to Warri and Kaduna refinery is alarming and I wish to request the Army to concentrate on these pipelines as they are critical to our operations', Engr. Oniwon opined.
The GMD further sued for more collaboration with the Army in the area of Engineering and applauded the Army for maintaining a high standard of work in some of the contracts being handled by the Army for the Corporation.
He reiterated the commitment of the Corporation to the existing mutual relationship between the NNPC and the Army and asserted that the relationship would help the duo to meet its primary obligations to the country.