2 MORE MINISTERS RESIGN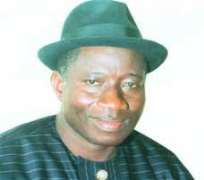 President Goodluck
As reported by Daily Sun on Tuesday, two more ministers have joined former minister of information and communications and senatorial aspirant, Prof. Dora Akunyili, to quit the federal cabinet to pursue their political ambition.
They are Adamu Waziri of Police Affairs Ministry and Isa Bio of Sports.
President Goodluck Jonathan yesterday approved Humphrey Abbah, former minister of state interior as new minister of police affairs while Minister of Special Duties, Prof. Taoheed Adedoja is also to supervise Sports.
Also, the Federal Government, yesterday, disclosed that it had invested about N80 billion on power for the 2010 fiscal year as part of plans to boost constant power supply.
Meanwhile, yesterday's Federal Executive Council (FEC) meeting, which considered 27 memos was the last for the year 2010 as its been adjourned to January 19, 2011.
The total amount of contracts approved by council was N56.29 covering power (N5.2 billion), education (N13.5 billion), health (N1.12 billion), roads and petroleum.
Briefing State House correspondents, the Minister of Information and Communication, Labaran Maku, alongside Minister of Finance, Olusegun Aganga, Minister of National Planning, Shamsudeen Usman, Minister of Education, Professor Rukayyatau Rufai, Minister of State (Power), Nuhu Wya, and Minister of State (Niger Delta), Sam Ode, announced three new federal universities, in addition to the six earlier approved to be established by the government. They would be sited in Gombe, Nassarawa, Katsina, Kogi, Jigawa, Taraba, Bayelsa, Ebonyi and Ekiti.
Maku said the importance was to help the growth of education and meet the nation's vision of being among the top 20 economies by the year 2020. The Education Trust Fund (ETF) was directed to release N1.5 billion to each of the universities for their immediate take off.
Council also approved a proposal for the supply of mathematics text books at the cost of N3.981 billion, which would be distributed to the 36 states and FCT.
The project, according to the minister, was in continuation of the 'Bring Back the Book' initiative of Mr. President launched on Monday in Lagos.
Council also approved Integrated Tax Administration system for the Federal Inland Revenue Service (FIRS) at the cost of N3.07 billion to modernise the nation's tax collection system.
Notable accounting firms, Akintola Williams Delotti, KPMG and TATCOFF Services were approved as consultants to verify the actual amount of Power Holding Company of Nigeria (PHCN) monetisation arrears put at N258.2 million. The minister assured that government was now ready to resolve the pending labour problem so that it could proceed with the power reform project.
Explaining government's challenges, Maku said, 'the labour issues, the outstanding payment of monetisation arrears between 2003 and 2009, conversion of over 10,000 casual staff and payment of the balance of 150 per cent salary increase have been some of the major challenges faced in the implementation of the PHCN reforms.'
Council also approved the procurement of medicament and equipment to be supplied within three months to the health ministry.
National Planning Ministry got approval of council for the implementation of NEC recommendations for mass sensitisation of Nigerians, creation of national infrastructure for job creation to help move Nigeria to the position of a nation of our dreams.
Ministry of Niger Delta Affairs got approval for project on canalisation of some areas to improve inland water transportation in Burutu LGA in the sum of N2.4 billion, another in N1.8 billion. This was to improve inland water transportation in Delta State at the cost of N1.3 billion.
Power projects, Maku said, would get adequate gas supply to boost power production, which would improve local consumption of gas, improve income generation in Katsina State.
Council also approved the direct procurement of 73 operational vehicles for the Department of Petroleum Resources (DPR) and other organs of the Ministry of Petroleum at the cost of N379.5 billion.
Stabilisation of power supply got a boost as contract for the provision of communication facilities for the power ministry was awarded by FEC at the cost of N330 million and additional N2.5billion for the procurement of circuit breakers for the power ministry.