MY PACT WITH MY PEOPLE, BY ONYEIBE, HOUSE OF REPS ASPIRANT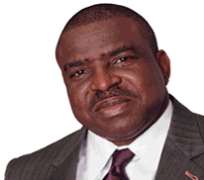 •Onyeibe
Overview of the politics of my constituency
My constituency is an interesting place. it comprises two local government areas; Ika south and Ika north. My people are mainly farmers and traders and we occupy a very interesting terrain ; We have issues with erosion, Poor infrastructure. I decided to step in to represent my people and I assist them in getting government attention towards addressing the challenges that they face.
Motivation
Generally, I'm sure you're aware that i served Delta State government between 2003 and 2007. I started as Commissioner for information. Later I became Commissioner for special duties, governor's office. Within that period, I went round the state as a whole the riverine area and the upland. I was able to identify the challenges of my people. I tried my best when I was in government to attract infrastructure to my area. I was responsible for getting government to tar a very major road
A road leading to six major communities, Before that, no tar had touched that road and people were bringing their farm produce on bicycles and so on. So, I noticed, that was the challenges they had and i used my contact in government and influenced the construction of that road. I also ensured that a few streets in Agbor township were tarred to ease movements. Like i said, we have serious erosion problems. I also ensured that the college of education, Agbor, which was there but did not have a degree awarding status had to be given that status. For over 80 years, no federal institution was established in Delta State, except now that the Petroleum Training Institute Effurum has been approved for upgrade to a university status.
All this, I did, While i was serving in government. I also helped to ensure that electricity transformers were brought to various places to boost power. In the areas, i also made sure that pipe-borne water was extended to the villages, and water reservoirs were built. I felt that having served for four years in government, I know the challenges that my people face on a daily basis. And i think i am in the best position among all the aspirants to be able to help my people. That is why I offered my self after consultations with stakeholders and they said people who have the contacts, the knowledge, experience, and ability should be put forward to be able to give them qualitative representation, which i am pledging that i will give my people.
Secondly, when we finished serving in 2007, i moved to Abuja. I happen to have had that advantage and privilege of working closely with people at the federal level - Ministers, legislators, people in the presidency, and heads of MDGS. I know that if and when my people elect me, I will be able to use the contacts i developed over time to help them in influencing projects and programmes that would alleviate poverty and improve their standard of living.
Turn by turn
It fits into my aspiration. I am not against the principles of Zoning. As it is, people in my constituency are very keen. The major stakeholders i have consulted have given me their blessings. So, in our case there is no issue of wrong zoning. They believe that I am the right man for the job, and they are solidly behind me.
Grassroots
Like I said I had the privilege of serving as a commissioner for four years in Delta State, more especially I was in charge of information. You know the period I served was one of the most challenging in the state. I had the opportunity of interacting with the people from the bottom to the top. Infact to improve feedback from the followers to the leaders I introduced translation of the state news into more languages in Delta North. So right now, the news broadcast in DBS is translated into Ika and Ndokwa languages. Before my time, that was not the case. So I know the people, and they know me.
So I am a homeboy.
Delta governorship re-run and my aspiration
It will not affect my ambition. what I told people who expressed this kind to sentiments is that Uduaghan was elected in 2007 by PDP faithfuls. The same PDP faithfuls are still there. They are going to re-elect him. Infact, Uduaghan enjoys some kind of advantage. He is now an early starter. His campaign organization has been put in place. The people that would organize, mobilize, direct and ensure that he wins by getting the people to vote for him are already on ground. So, the same platform, instrument that he will use to achieve success in this re-run election will be the one that he will use for the 2011 election. So, he has a head start, a head advantage ahead of others who would be competing in the general election. My understanding is that in this one, he is running against a candidate in the DPP. And that is it. Others will have to wait. He is going to do a test run. So, the re-run election has prepared us, it has put us ahead interns of preparations, and we are going to take advantage of that.
Now, people are resting on their oars, because the dates for the primaries have not been announced. But because of Uduaghan's re-run, all hands are on deck right now to make sure that as soon as the whistle is blown we'll be at the starting point early enough to go ahead.
Electoral system
Yes, we have faith in it. Absolutely, that's why some of us are interested. Things are changing. with the data capture machines, DCC, that is going to be used. When you vote applying technology, it will be very difficult for people to manipulate and we'll began to have a true reflection of the peoples interest. I have absolute faith and confidence in it. I am hoeing that the people who will implement it will be very diligent and for the first time we will beat our chests and say we are practising democracy the way at should be.
Stealing of DCC machines
That is very aweful and does not speak well of us. It is really terrible. It goes a long way in consolidating the wrong impression that has been created, and which government has been trying to correct. It beats me hollow that there could be such a breach at the airport. It is sending wrong signals to people who do business with us. So i am very confident that government will not take it lightly. They should stop at nothing in unravelling the people behind this very strange action that is going to further tar the image of Nigeria. I also think, that they should have been more careful in handling the importation because these are very sensitive machines that I thought would have been imported under a tight and strict condition. It is unfortunate that they just treated it like any other item. It is an item of high interest and they pilfered it. It is like if you are going to import uranium, you can't it just give it as a contract to one trader, and allow him to bring it without strict controls. I think there is a lapse in what government should have done to secure it. And I think that gap should be filled in ensuring that those machines are recovered and those who engaged in that heinous crime are adequately punished.
Party system
I believe that democracy is evolutionary. It will evolve over time and like wine it will mature and get better over time. We are going in the right direction. Time and resources are always a big constraint to politicians people may be impatient that things are not going in their envisaged direction and speed, but I think we are heading in that right direction. We've done this for 11 years consistently, and all the things are in place for things to change. There is New INEC, new system of registering voters, so that all those strange names will not be there again, and it is very likely that real people will begin to vote. No more ghost voters. And it will appear that votes will began to count. So I think there is something to cheer. Finally, the outcome of the 2011 elections will prove whether or not we have been moving in the right direction.
Message
My message to them is that they should not despair. They should not think that there votes will not count. They should ensure that they all go and get registered. On the day of election, they should come out en masse and express their views because it is very important; because that is their future. If they cast their votes wrongly and they have cause to complain in future they have themselves to blame. If they cast their votes correctly and the right person is chosen, and their lots are improved, their roads become motorable, food becomes cheaper because the process of bringing them from the farms to the cities is easier, electricity becomes available and cottage industries are set up in their areas and employment created for their people, they would see justification for who they cast their votes for. They should not play politics with their votes. They should play politics with their hearts and make sure they vote the right person.