I WANT TO BRING TRANSFORMATION TO OGUTA – IMO ASSEMBLY ASPIRANT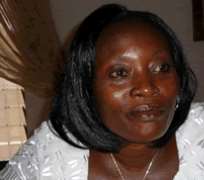 Kpatuma
Before throwing her hat into the political ring, Mrs Blessing Adaku Chris Kpatuma had had some stint in some reputable organisations where she made giant strides. At the last count, this English graduate of Lagos State University from Mgbala/Uba ward in Oguta Local Government Area, Imo State had worked for Everest Finance Company, Upward Consult as project manager, where she handled projects for the Guild of Medical Directors, as well as their pharmaceutical companies.
And as wife to a police officer, she is a member of the Police Officers' Wives Association where for several years she served as the secretary to the association in Cross River State Command, where she equally made great impact.
Hear her: 'As a member of the police officers' wives association, I have assisted in promoting the welfare of women as well as protecting them. I have also contributed to the development of police officers' wives through the construction of shops at various locations.
'Today, several women have benefitted from these shops. They own their own businesses through which they assist their husbands. My husband and I have also set up a scholarship foundation through which several undergraduates and graduates today have benefited from it. We can boost of lawyers, medical doctors and so on.'
Going into politics
I have come out for the race to represent my constituency in the state House of Assembly for several reasons. Politics in itself creates an opportunity for one to represent one's community, be it at the local government level, council level, state or federal level. And this representation is basically to ensure that the dividends of democracy reach the people. It also entails equitable sharing of resources that are made available to the people. It is not an opportunity for self-enrichment and I am not going there for self, I am going there for the opportunity it will create for the people.
My predecessors
I'm not trying to castigate or pass judgment on those who are there already or who have gone before me, I want to say that of a truth, the dividends of democracy cannot be hidden. When a leader or a representative has performed, it will speak for itself. Just like what you see on some other states or in some other places. Take Imo State, for instance, when you come to Owerri or the environs, you will see that things are happening, there is change, there is transformation and this is the kind of thing that we desire for the local areas. And if some communities today cannot boost of even one social amenity, what that means is that they have not gotten the kind of representation they needed. A place does not have road, light, potable water, then there is so much to be desired of that representation of that particular area.
Good representation
Yes, when bills are being canvassed, the essence is to have it on record that there are needs that have to be met and these bills or laws are made to provide enabling environment for the implementation of projects. The fact that it is laws that govern the people, that is the essence of Houses of Assembly. There is also the work of ensuring that the entire bills they passed are also put to practise, are implemented. In that regards, development reaches the people through the state House of Assembly as laws are passed. After these bills are implemented, there is also what we call oversight function which entails that whatever bill that has been passed, whatever project that has been approved to be carried out is carried out without anything left behind.
My community
I am a bonafide member of my community; I know what is going on there. I follow the happenings in my community. So being a politician does not entail anything special. What it simply means is that somebody is part of the community, you are concerned, you have a genuine concern for what is going on in your community and you have a desire to make some positive contribution.
Nigerian women clamour for more political slots
To begin with, this is the time for women. Right from the national level down, opportunities are being given to women and my community is not left out of it. They recognise this fact which is why they have allowed Mrs Arthur Nzeribe to emerge as the executive chairperson of Oguta Local Government Area. So they are very receptive to it. Everybody is happy about it because they feel that what has eluded them for so long, with this daughter of theirs who is coming out, she will definitely bring about the desired transformation that is needed.
The issue of the 35 per cent is to encourage women and I will also like to draw the attention of the state government to performance. Come to Oguta local government, you will see that the executive chairperson who is a woman is doing very well.
Within three months of getting into the office, there is a lot of transformations. Take the secretariat, for instance, if you have visited the secretariat before this time, you will agree with me that there is a remarkable difference. So, in terms of performance, women are prepared to do the work and deliver the goods and at such the government should encourage women because we are not only going there for the fact that there is 35 per cent being canvassed or advocated for women, but because we are going there to perform and we will actually do it and deliver the goods.
Zoning in Oguta
Oguta constituency for instance is zoned into two. We have Oguta North and Oguta South. By the party arrangement politically, there are just two elective positions that are shared by this two zones which is that of the member of the state House of Assembly and chairman of the local government. Where one position goes to one zone, the other has to go to the other zone and in this case, Oguta North has produced the executive chairman of the council in the person of Mrs Nzeribe. The other position which is that of the state House of Assembly should be for Oguta South. And that is why there is an incumbent from Oguta South.
My reception by my community
It is very easy to know from the response that we have received because we have visited all the wards in my constituency. My campaign team has visited all the wards and we have even repeated this the second time. So, with the kind of response that we received from them, there is no doubt in our mind. There are people who even had some interest for some others persons in some other parties, but from the time I emerged as an aspirant, they have since turned the other way to pledge their support for my candidacy.
My chances
Definitely, I will not fail, but, however, in any race, you either win or lose and as such I will take it in good faith knowing that I have put in the best I can to make it and if it doesn't work, probably it is not the will of God, I will take it in good faith.
My message
To the people of my constituency, I would like to tell them that this is the time for change. This is the time for transformation. There has to be a paradigm shift from the usual so that we can have something new coming and that we need something new that will bring about the dividends of democracy in our constituency and that can be find in me. I am asking them to give me all the support that I need to make it and they will never regret it.