FIRST NIPP TURBINE COMES ON STREAM THIS MONTH WITH 250MW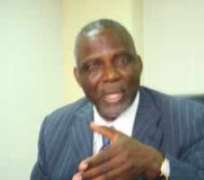 WHIFF of optimism came at the weekend for the nation's power sector, as the National Integrated Power Project (NIPP) affirmed readiness to add 250 megawatts (mw) electricity to the national grid. The first of the turbines in Olorunsogo, Ogun State is to be commissioned by end of this month.
Managing Director of the Niger Delta Power Holding Company — the agency managing the project, Mr. James Olotu said in Abuja at the weekend that the turbine, with a capacity to deliver on 750 mw of electricity would add about 250 mw at commissioning by end of this December.
On completion by August next year, the plant is expected to come on full stream, delivering the complete 750 mw capacity.
Olotu, who spoke with some newsmen shortly after receiving an award from the National Association of Niger-Delta Students, stressed that the December target for the commissioning of the plant was still on course.
His words: 'We have not lost hope on the December date.  By the end of this month, our first power plant will come on stream. We are working very closely with the leaders of our gas suppliers, the Nigerian Gas Company, NNPC, and Ministry of Petroleum to ensure that we have enough quantity of gas and in the right quality when this turbine is commissioned.
'Our commissioning teams are at this moment, in Olorunsogo in Ogun State, to make sure that everything is on course. The power plant is about 750mw total capacity when completed. It is a combined cycle power plant. The first part that would be commissioned this December would generate 225 to 250mw.
'In the first quarter of 2011, we are optimistic that additional capacity would be generated. We are hoping that as new year rolls by, additional capacity would be added from the NIPP.'
He added: 'We are hoping that early 2013, all the power plants would be ready and Nigeria would not be the same again in terms of power availability. We are building a number of transmission networks and these are all coming on stream. This is dry season and we know that it is a bit easier to do civil works.
'Recently, we had a meeting with all the contractors to get them to realise that Nigerians are waiting for them and get to work harder to deliver on targets.'
He stressed that 'the whole idea is to quickly change the power sector without subjecting it to the bureaucracies of the Power Holding Company of Nigeria. The country cannot continue in the manner it is. If you compare Nigeria to some countries of the world, we are still way behind. South Africa, for instance, has about 38, 000 MW for about 40 million people.
'Unfortunately, with 140 million people has just 3500MW. When divided, each Nigeria has only 35 watts of electricity. Nigeria cannot continue in this calamity. That is why government set this place up to fast tract power generation, transmission and distribution using special intervention schemes.'
He pointed out that NIPP has commenced building several kilometres of transmission lines, urging the communities where such projects pass through to co-operate with government in the project.
Olotu disclosed that when the NIPP projects are completed in 2013, the plants and facilities would be handed over to the private sector to manage.
The NIPP was conceived by President Olusegun Obasanjo's administration to address the twin issues of low power generation and gas flaring from oil exploration in the Niger Delta region.