MI2, Music or Movie?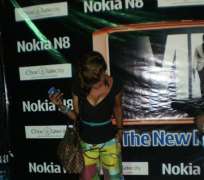 For those of you wondering whether this was an Action film, well it wasn't. It was a more like a film version of an album listening party. So, instead of having a usual album listening party to release an album, the good guys at Chocolate City decided to showcase the acclaimed MI's sophomore attempt as a feature film.
The star studded event featured performances from of course MI himself, the Choc boiz, Loose Kaynon and many others.
Enough talk, enjoy the pictures!!