Gov. Aregbesola's Security Aides in Shoot-Out with Armed Robbers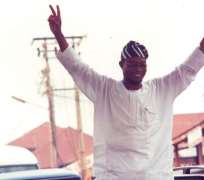 Huhuonline.com understands that Security aides attached to the Osun State Governor, Rauf Aregbesola, Monday afternoon, dislodged dare-devil armed robbers from the Lagos/Ibadan Expressway and secured the road for safe passage by other motorists. They also arrested one of the armed robbers and handed him to men of the Federal Highway Patrol Team stationed at kilometer 30 very close to Ibadan, the Oyo State capital.
  The incident which took place at about 3.00 pm. at kilometre 43 after Ogere in Ogun State, led to a shoot-out between the Governor's security aides and the armed robbers for about 30 minutes. The arrested suspect was handed over at exactly 4.20pm.
  The police patrol team led by Inspector Emmanuel Chukwuma, took custody of the arrested suspects, who feigned ignorance during preliminary interrogation.
 
  Sources said before the Governor arrived the scene, the robbers had   a field day as they successfully held   many motorists hostage while dispossessing innocent citizens of the valuables.