New Revenue Sharing Formula Underway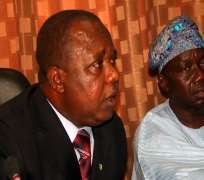 ABUJA, Dec 20, (THEWILL) - Smarting from his new appointment, Chairman of Revenue Mobilization, Allocation and Fiscal Commission (RMAFC), Engr. Elias Mbam today announced that a new revenue formula for the three tiers of government would emerge soon, as the current formula was no longer in tune with the present reality.
Mbam disclosed this to newsmen in Abuja in his maiden address, promising to tackle all revenue leakages which had in the past posed serious challenges to the Commission.
He said the current formula was a creation of the past military governments, and that a new formula would be worked out to guide the current administration, adding that a committee would be set up to recommend a befitting formula for presentation to Mr. President.
Under the current arrangement, the federal government takes 52.68 percent; the state governments, 26.72 percent while the local governments go with 20.60 percent with 13 percent to the oil-producing states.
"A standing committee will be established on a new revenue-sharing formula. When we do that, then we will be able to advise Mr. President and make recommendations for onward transmission to the National Assembly for their consideration. That will be one of our major assignments in the near future," Mbam said.
"So, we quite agree that the one we are using has been quite old and in fact right from the military time. So, it is time we really reviewed the sharing formula. So, we will really look at it again and be sure that we are fair, just and honest in what we do and then in providing a new revenue formula, which will be acceptable and fair to all Nigerians.
"Basically these are the sources of revenue. We are going to expand the sources. We are going to look at other sources. In other words, we will be so much concerned with diversification. We are going to diversify the sources of revenue. I am going to create a standing committee on diversification to take care of this so that we get other sources that will now accrue revenue to the federation account.
"The basic thing that we need do is to ensure that all revenues accruable to the federation account is accounted for. In other words, we should ensure all possible leakages are closed. We will also ensure right from the point of collection that all revenues are completely collected and accounted for up to the point of distribution to the three tiers of government. We will stop the leakages and expand the sources of revenue. "To ensure efficient and effective coverage of our responsibilities, we shall operate on Committee structures similar to that of the National Assembly. ...To kick-start our operations, we shall fine-tune existing policies and strategies and evolve new ones aimed at ensuring a federal revenue system that will increase overall volume of the national financial resources available for distribution to the three-tiers of government," Mbam said. He added that the commission is today concerned with "how to increase the size of the 'National Cake' rather than dissipate all its energy on how to share a shrinking 'Cake', stressing that the commission would be repositioned for the task of revenue mobilization, allocation, and fiscal efficiency. Speaking on the jumbo pay of political office-holders, Mbam said though the issue was of utmost importance, the new commissioners were yet to be fully briefed.