Sports Minister, Isah Bio Declares for Kwara Governorship Contest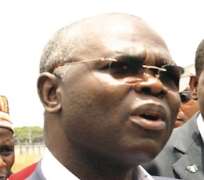 ABUJA, Dec 20, (THEWILL) - After several months of speculations by the media, Nigeria's Sports Minister, Alhaji Ibrahim Isa Bio today declared his ambition to contest the kwara State governorship race on the Peoples Democratic Party (PDP) platform to succeed the incumbent Governor, Bukola Saraki.
The event, monitored by THEWILL saw the unprecedented crowd that thronged the venue of the declaration amongst well wishers as Alhaji Bio declared his intention to serve as governor. Bio, who was a one time member of the House of Representatives and Speaker, Kwara State House of Assembly, told his audience that he will consolidate on the achievements of the present Governor and use his varied experience in politics and public administration to better the lots of Kwara people. "I stand here this after noon, to present myself as a humble servant seeking to consolidate on the achievements of my beloved brother, and role model, the amiable governor, Dr. Abubakar Bukola Saraki. "In my over three decades of service to our state, and our country Nigeria, my guided principle has been 'life is about service to humanity' life's greatest achievements is not measure in material procession, but the value that you add to your society. This has been my driving force every where that I have been called upon to serve."
He said if elected, his administration's priority would be serious efforts at improving agriculture, roads and water supply, health and job creation, adding that accountability will be his watchword.