MY FATHER WAS ABANDONED – ENAHORO'S SON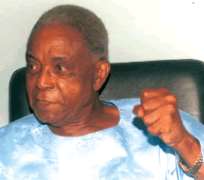 Late Enahoro
Eldest son of late foremost nationalist, Mr Ken Enahoro, yesterday, lamented that his father, Pa Anthony Enahoro, was abandoned by his friends and associates during his most difficult days.
The younger Enahoro made the remark at the family home when he received the Ogun State Governor, Otunba Gbenga Daniel, during a condolence visit.
He however singled out the Ogun governor, saying he showed practical care for his late father.
'Daniel was not like some of the friends and associates of the man who eulogised and seemingly worshiped him with lip service even when they did not care to help him through the difficulties that marked his last days on earth,' the younger Enahoro said.
Speaking earlier, Governor Daniel said he shared many things with the late Chief Enahoro, who he said he visited more than two occasions this year before he died. 'Let me say that Pa Enahoro and I shared so many things together when he was alive. I have been to his house on more than two occasions this year where we sat down together, just discussing the issues of how to move Nigeria forward.
His knowledge of Nigeria is unrivalled,' Daniel said.
Meanwhile, the wife of Pa Enahoro, Mrs Helen Enahoro, said the family would not want Nigerians to mourn the death of her husband. She advised instead that Nigerians should work to realise the ideals her husband devoted his whole lifetime to pursuing before he died.