I don't follow the crowd — Saadat Hassan, Mustoy Films boss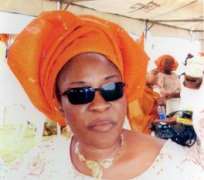 She is one of the most prominent movie producers and marketers in the Yoruba movie genre. And she's the immediate past vice-chairman of the Yoruba Video Film Producers and Marketers Association. Mrs. Saadat Hassan speaks with SAMUEL AWOYINFA about her childhood, parentage, business and other interesting issues Having lost her father when she was just nine years old, hope for her and her four siblings seemed bleak.
Their mother, who was then a full-time housewife, had to step in and took to petty trading to cater for the academic, emotional and material needs of her children.
While their dad lived, young Saadat and her siblings attended nursery and primary schools in Falomo, Ikoyi, Lagos, enjoying their father's high position as the Permanent Secretary, Ministry of Defence. They also had an official quarter in Ikoyi. But that perk was withdrawn in 1973 when their father, Alhaji A.K. Sule died. Indeed, they were ejected a few weeks after.
"My childhood was not that smooth at the beginning," she reminisces. "At a point, it became rough, somehow. I lost my father when I was still very young; I was just nine when he died. That day, my father went to the office, when he came back, he slumped suddenly and died immediately.
"I was born into affluence. We were living at Ikoyi then, and we enjoyed all the facilities that made life comfortable for us. My mum, being a full-time housewife, found it difficult at the beginning to cope, because we were ejected from that building and we relocated to Ilorin."
Saadat however says that the mother rose up to the challenge as soon as they settled down in the place where they hail from.
According to her, her mother started with petty trading, and with determination and hard work, she and her five children were able to get by. She was able to send all of them to school.
"My mum did her best. She ensured our education did not stop. I think the most important thing was that we never made unnecessary demands on her. We were always contented with what she gave us and we managed," she recalls.
Saadat, mother of three boys, attended Ilorin Grammar School, and later had her first degree in History from Ahmadu Bello University, Zaria. She did her Master's in Public Administration at the University of Calabar.
She preaches the virtues of determination and power of focus in achieving one's goals in life. And on this, she has a message for the youths, "They have to be determined to succeed in life. If you are determined, you can be anything. The president told the citizenry about his early days, when he trekked miles to get to school. He was determined to succeed; and he did.
"It almost got to a point that my mum said I should get married; but I was really determined to go to school and I achieved it."
Recounting how she came into movie production and marketing, she says that the first wife of prominent Yoruba actor, Mr. Adebayo Salami (Oga Bello) encouraged her to go into the field in 1994 and ever since, she has not looked back.
At Idumota, Lagos, which is the hub of movie marketing in the South-West, she's referred to as the 'iron lady.' And for this nickname, she puts up a defense: "I believe it is because of my being straight-forward in whatever I do. I don't believe in deceit and I would not be found where people deceive themselves by not saying the truth.
"I say it as it is, and heavens won't fall. Once you don't compromise your integrity, those who are not clean will call you names. That is exactly what is happening. I don't believe I'm tough or wicked; rather, I'm a highly-principled person."
Saadat, who has signed on some gospel artistes like Funke Awoniyi, Opeyemi Ajayi, and Alfa Nla, among others, states that the lull in both the Nollywood and Yoruba movie genre could not be divorced from the global economic meltdown.
And talking about music, she does not begrudge hip hop stars who release works that have no cogent message than lewd lyrics, which appeal to emotions rather than reason.
She argues that this scenario is not limited to Nigeria, where youths are the focus of lyrical abuse, and adds that it is a phase which those youths would soon outgrow.
The 'iron lady' advocates professionalism in the relationship between marketers and the actors, most especially when it involves business.
"If an actor wants a marketer to finance his work, the artiste is a professional who should know the amount he needs to complete the work. I believe such an artiste should be able to stand his ground and get what he needs to deliver a good movie, because he knows the details and the scope of what he wants to do. He should not settle for anything less."
"What really drives you as a person?" our correspondent had inquired. Saadat puts it more succinctly: "It is my determination. If I am determined to do something, I pursue it to its logical conclusion. I don't get discouraged even if there are certain things pulling me back.
"If, at the end it does not work out, I will know it is God that did not want it to happen. In most cases, I get favourable results because I pursue my goals with all determination."
Looking radiant and beautiful, she says she does not go to the gym; rather, she notes that each time she notices she's getting out of shape, she watches what she eats and does away with those that pile up fats in her system.
"I don't go to the gym. If I want to shed some weight, I know what to do. I will just reduce intake of certain classes of food, and in a matter of weeks, I go back to my normal shape," she enthuses.
Saadat, who wrote scripts of some of the movies she had produced and marketed, explains that she does not believe in the bandwagon effect that characterises the Nigerian movie industry in recent times, where producers follow the same pattern of thematic preoccupation in their works.
"Once someone did a movie with love as its theme and it sells, be sure, more movies with same theme will follow suit. I don't follow the crowd; I believe in doing my own thing in a unique manner and then get good result. Anyone who follows the crowd, most times, falls with the crowd."
There are two events in her life she finds difficult to forget, one gives her joy while the other brings memories of sorrow and sadness.
The first was the successful birth of her third son in 1993, which she says, came after two stillbirths; and the second was the death of her younger sister in 2004, Sidikat Adegoju, in an auto crash, in which she was also involved.
Where does she get inspiration for those scripts she writes? "I get inspiration from events/happenings around me. And those things that happen to friends, relations or some other people in my environment."