WHY I ENDORSED VOVI – BIG BROTHER SHEILA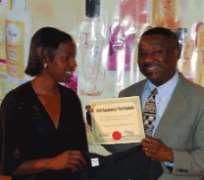 (L-R) Brand Ambassador Vovi range of products, Sheila Kwamboka and Vice President Alpa Medical System Inc. at the unveiling of VOvi brand icon in Lagos.
Big Brother Africa star, Sheila Kwanboka is going places. Less than two months after making waves in the continental reality TV show, the Kenyan broadcaster and model has emerged as one of Africa's most loved showbiz personalities and a symbol of beauty, freshness and dynamism.
Only recently in Lagos, tall and pretty Sheila signed an endorsement deal as Vovi's brand ambassador for Africa. Vovi is a range of beauty products which originated from the United States and has now entered the African market to satisfy the beauty and skin care needs of the people.
The vast range of Vovi includes Body Mist Fragrances, Today Man Fragrance, Vovi Deep Pore Cleanser, Acne Treatment, and Vovi Perfumes among others. The products were conceived to go beyond existence and enhance the quality and beautification of lives. It originated from the French word meaning, 'your lives'.
At the signing ceremony, Vice President of Alpha Medical Systems, USA, Dr Ike Ukwu noted that Vovi products range symbolizes the new spirit of the African continent, a fulfillment of its beauty quest and a pleasant gift to the rest of the world.
'Sheila Kwamboka is also a manifestation of this new spirit and beauty, and depth of Africa and is, therefore, a natural partnership. We are impressed by her commitment to African womanhood, her vibrant personality and her genuine desire to create a better society goes beyond skin deep. This is in harmony with our commitment at Alpha Medical Systems to make Vovi an integral component in the day-to-day lives of African men and women and in the enhancement of their natural God -given beauty,' he asserts.
Sheila's involvement in Big Brother Africa show made her a household name in Africa, and also taught her some valuable life lessons. She expressed the sentiment thus: 'Africa is such a vibrant continent. Though, we have different cultures in different countries, deep down we are all the same in Africa and we share similar values, beliefs and aspirations.'
The former Big Brother All Star housemate is in the process of establishing the Sheila Kwamboka Foundation, which aims to empower communities to combat diseases and fight poverty. The Net Malaria out of Africa will be her first initiative in the Foundation.
The Big Brother star applauded Alpha Medical Systems for the Vovi concept, while also praising the product's simplicity and world class quality. 'I am proud to be associated with the Vovi brand, 'Sheila says.
Blockbuster, however, gathered that Vovi range would soon have a production outpost in Nigeria.