Gbagbo orders peacekeepers to leave Ivory Coast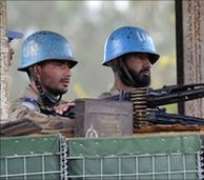 Incumbent Ivory Coast President Laurent Gbagbo has demanded that all foreign peacekeepers leave the country immediately, escalating a dispute over last month's presidential election.
His spokesperson accused UN and French troops of colluding with former rebels.
The UN and major powers have recognised Mr Gbagbo's rival, Alassane Ouattara, as the winner of the 28 November poll. Mr Gbagbo insists he has won.
Mr Ouattara is currently under UN protection at a hotel in Abidjan.
The United Nations, the US, former colonial power France, and the African Union have all called on Mr Gbagbo to stand down.
But he says the election was rigged by rebels who still hold the north after the civil war in 2002-03.
Mr Ouattara's supporters have threatened to take again to the streets, following gun battles which left 20 dead in Abidjan on Thursday.