MY MARITAL CRISIS ALMOST DESTROYED ME — KENNY ST. BROWN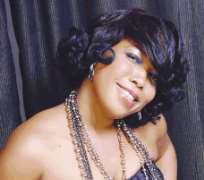 Kenny St. Brown
Famous gospel singer, Kenny St. Brown is no doubt, one of the female artistes in the entertainment industry with her eloquent voice and unique video qualities. She is the younger sister to Kenny Ogungbe, the Chief Executive Officer of the renowned record label, Kennis Music. Recently, she won the best gospel artiste for 2010 at the Nigerian Music Video Awards.
In this interview with Saturday Sun , the mother of two lovely kids spoke on how she encouraged her brother to set up Kennis music and the early challenges they faced when it was established. She also spoke on how the label has promoted so many artistes especially 2face who still remains Africa's best artiste, and why the label hasn't made another famous star. She also discussed her collapsed marriage, scandals and her albums especially her latest album entitled, Turn around.
How did you venture into the music industry?
The Lord called me into the ministry as a singer where I started at my church choir, the parish of The Redeemed Church of God. But when I travelled to London I received the gift of writing and singing from God. When I got back to Nigeria, I recorded my first album in 1997 entitled, Totality with the hit track, You are worthy, worthy which was released in 1998. Though I had the flare for music but I didn't know I would be a musician until God called me.
How are we sure that you didn't go into music because your elder brother is the CEO of Kennis Music to guarantee your success?
No! My brother, Kenny Ogungbe wasn't into music before I ventured into the industry. He was the General Manager, Daar Communication and Raypower FM. AIT hadn't been established. It was just Raypower FM where he was also an on-air personality. We haven't established Kennis Music when I recorded my first album. In fact, the label originated when we were looking for a marketer for my finished work but we were unable to get it. I was an MBA holder then and I was trained to be an entrepreneur. I told my brother that we should be running a record company while he could still manage his job at Daar Communication with my massive support.
He saw it as a wise decision. So that was how we established Kennis Music. We started the label from a very rough beginning. Then there was no cds but cassettes.
We became friends with the members of the The Redeemed Church because they do their messages on tapes to enable them to assist us dub our Kennis music tape from the church. There, there were few record labels like Premier music.
Are you saying that Kennis Music started on your platform and and that of Kenny Ogungbe?
Kenny Ogungbe is the owner of Kennis Music, but I was running the label at the initial stage. Then he was an on-air personality promoting the artistes. He never knew that God was planning something great for him, not just promoting the artistes. He eventually marketed them on his label.
You experienced marital problems which led to eventual break-up of your marriage. Are you saying it is a testimony of your life?
I had a marital crisis from which God has given me a turn-around and I have become whole mentally, spiritually and economically. In fact, I don't want to discuss those marital problems because they are my past.
Any plan to remarry?
No comment. I don't want to discuss my marital problems or future in the public because I'm not God. In fact, it is none of your business.
How would you describe yourself?
Kenny St. Brown, you don't see coming but when you meet her, she is in your face. She is a fighter. She loves to strive on the back of challenges, set goals and achieve them. She is a very pro-active person. She is also friendly, loyal and a gentle person who loves to live her life to the fullest.
What actually inspired you to do gospel music?
Failures are the things that actually inspired me to seek God to know who He is. The problems and challenges kept surfacing, but I continued to succeed in the face of failures.
How would you rate the music industry in Nigeria?
The industry has taken a 360 degrees revolution. We had the greatest number of nominations at the just concluded Channel O Awards, The SMVA Awards and MAMA Awards. There was never a MAMA award until MTV realized that something is happening in Nigeria. It was the third award they are organizing in Nigeria.
The Americans now address us as the New York of Africa because of the quality of our music. And when you go to clubs, what you hear now is 90 per cent of Nigerian music contrarily to what it used to be in the 90s. We have also grown to the level of organizing numerous awards. We are talking about the content of our music because it is what has being our strength for celebration.
In Nigeria, you can leave the scene for six months and before you know it another artiste has taken over. Two years ago, it was Olu Maintain, and last year it was the late Dagrin. This year, it was Ice Prince with his song, Oleku and in another three months we would be talking about another artiste with a hit song.
And there are so many radio stations in Nigeria because our music wasn't making waves, but today we are really making progress. I'm so happy President Jonathan has recognized us. It has also taken a lot of youths off the street and crime. We also have dance groups, musical competitions and international awards won by 2face Idibia, Dbanji and MI. Nigerian artistes are attending BET Award in America where Psquare and MI were nominated. Our artiste, Asa won an award in France recently. In fact, we are doing well and I thank God that the content of the songs most of our artistes sing are meaningful now.
How has Kennis Music affected your life?
Kennis music has not only affected my life, but it is the pillar of the Nigerian music industry. There was no market for Hip-hop or R&B until we came into existence though we had challenges in the process of promoting artistes like the Remedies, Paul Play Dairo and 2face that is still African best artiste. Though the challenges we experienced especially was investing on artistes and we lost so much, but we never regretted it because we hope to achieve our goal which we did. Sound City and other record labels saw what Kennis Music was doing and they followed him. He invested his resources on Nigerian youths not just his younger sister, Kenny St. Brown. I'm very grateful to be one of the artistes on the label and also an employee.
Why did Kennis Music find it difficult to promote another star like 2face after he left the label?
We never found it difficult to make another star. Artistes are difficult to handle. If they had not been difficult even 2face would have been back. We don't claim that we made men because it is God that made them. We are just an instrument to their success. So, after 2face, Kennis Music also discovered Kelly Handsome. 2face was part of the popular group called Plantation Boys. Though it wasn't that Kennis music discovered him but Kennis music was the label that actually launched him into the entertainment industry as the famous star he is today. So, after him my brother decided that it is time to discover the young ones, instead of the artistes who have made names. And you need over two years to build them. Just like D'banj, it took him over two years of doing free shows before he was recognized as a superstar.
Kennis music is discovering the young ones like J-One who we discovered at the beach and he is making wave currently.There are others too. When Marvellous Benji was in the ghetto as an artiste he wasn't doing well until he came into our label and we made him a known name in the industry. He left and started saying rubbish about the label. Check them after they left Kennis music you would discover they are nobody except the artistes who knows their onion. Kennis is still passionate about making Nigeria artistes a superstar even after 12 years of establishment.
What is your fashion sense?
I'm a good fashion person. I don't joke with fashion as a celebrity, because it is a statement of who you are. I'm not a tall person, so I always wear something that would make me stand out in the crowd. I don't wear high heel because of my legs.
What actually happened to your leg?
I limp on my left leg because I broke my anchor though I grew up like that. It wasn't as a result of an accident. Though they gave me different excuses like polio or that it was caused by injection. But I realized that Yinka Ayefele who is on a wheel chair is still enjoying massive support from his friends. Steve Wonder is really making wave as a star in America. So, why shouldn't Kenny St. Brown who has two legs glorify God. People always give me a surprise look whenever they see me limping. I love myself the way I'm created. Some people say that I don't know how to sing. Since they are better than me, what have they done with their voice? God gave us gifts, yet you bury yours and criticize me.
What is the secret of your looking young?
I would say God is renewing my youth daily. Before I delivered my last baby seven years ago, He told me that He would reduce my age by 20 years. I taught it was a joke. Though when God speaks to me, I don't doubt His words but I asked Him why He wanted to reduce it and He told me. I have seen it. Even most people thought I was 15 years younger than my age. In fact, I felt it within my spirit that I'm growing younger everyday of my life and it give me so much pleasure.
I remembered vividly when I travelled to Abuja, a guy saw me at the ministry and lamented badly about my look. He said that I was reducing them before the public. He wondered why I would allow what they say in the papers to affect me badly. And I was so depressed. I swore never to look bad. So, whenever people see me in the public, they may have a misconception about me. After that encounter, I just try to represent a little even in simplicity. God has truly renewed my youth like that of an eagle. I also associate myself with young people and my children keep me young.
What do you enjoy most about fame and stardom?
Since I was 12 years I have lived with fame and stardom so I don't differentiate it. I was married to a famous person. I'm a younger sister to a famous person, Kenny Ogungbe and the Ogungbes. I'm also an in-law to a famous person, Chief Dr. Raymond Dokpesi. Though you have opportunities as a celebrity and invitations to events, I lived with famous people even though I'm a star. I have abundant grace of God to live a simple life. So, being famous is not intoxicating me.
People say you are a proud person. How true is it?
If I'm proud, I wouldn't be here because it is humility that makes a person not pride. If you don't know, looking at my life challenges is enough to give thanks to God. Most people just think that as a celebrity you should be a snub or a proud person. There is an encounter I wouldn't forget in a hurry. I entered a place and after greeting them, they were amazed because they believe you should be a proud person. I'm not that kind of person, so I wouldn't live a fake life. Another misconception I think people have about me is my age because if you saw me lately, I have been so young. Even the young guys 'toast' me.
What was the worst scandal published about you? How did it affect your life?
There have been scandals but I thank God for all of them. You know what God told me about those scandals? He told me that my ways were so straight that I was too perfect because fame needs some element of shame. Even Jesus was accused of blasphemy. He had to die with the two thieves on the Cross, making His cross more projected than the thieves so that people will see Him. Yet they still wrote the King of the Jews which was His offence and the shame He suffered. I thank God for every iota of scandals I have suffered. Even you, I don't know what you are going to use as your headline. They said my ex-husband was saying different things. In fact, magazines really sold. Last year, they said I almost destroyed somebody's home. Then another paper listed Kenny St. Brown among the artistes who smoke marijuana. I was astonished. And recently they said I collected N25 million from Wema Bank. Since they want to enrich me, maybe they should tell me when to come and collect the money. So, I don't care about all they have said because God has assured me that He would double my shame with blessings.