S'EAST VARSITY STRIKE: EBONYI GOVT DRAGS ASUU TO COURT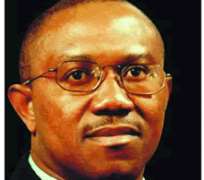 •Gov. Obi
Resolution to the five months industrial action embarked upon by the Academic Staff Union of Universities (ASUU) in Ebonyi State University seems far from being achieved as the state government has finally resolved to take the union to Arbitration Court.
Ebonyi State Attorney General and Commissioner for Justice, Jossy Eze, in a press briefing yesterday, disclosed that the action was to restrain the ASUU from continuing the strike that has lasted five months and compel the lecturers to go back to the classroom.
The attorney general noted that against the claim of the lecturers, the state government was not privy to the agreement between ASUU and the Federal Government and so was not bound by the agreement.
He accused the union of not following due process in embarking on the industrial action in the first place. Such procedure, he explained, include appropriate notices and actions to the concerned parties before strike in line with the trade union dispute act.
He recalled the committee set up by the state government to resolve the impasse, which advised the state government to pay CONUAS II to the lecturers and staff, which was an improvement from earlier salary. Yet, due to the recalcitrant action of the union, they had been adamant and insisted that government must pay them CONUASS III, which was agreed with the Federal Government thereby ignoring pleas of government and individuals in the state.
Describing the strike as ill-motivated, the Chief Press Secretary to Governor Martin Elechi, Dr. Onyekachi Eni, who jointly addressed the press accused the lecturers of failing to appreciate the pride of place which Ebonyi State government places on education on account of which in the South-east zone it gives the highest monthly subvention of N120 million to Ebonyi State University (EBSU) 'when some other states do not even give up to that amount to their own institutions.'
He wondered why it was only in the South-east zone that ASUU embarked on a joint strike even when there were many other state universities that were not implementing the said agreement. 'This raises the issue as to whether the strike is borne out of the personal frustration of some ASUU leaders, especially its national president, who teaches at Imo State University.'
Eni argued that EBS was one of the few state universities in Nigeria with the highest number of faculties and departments inspite of its relative young age. Arguing that school fees paid in the institution did not compare with the fees in many other state universities, he said the institution has a staff strength of over 3000, which could be gulping over N400 million monthly to pay the lecturers.
He blamed the university leadership for the bloated staff strength accusing it of establishing departments and employing people without regard.
The government spokesman pointed out that even when other state governments embarked on the principle of 'no work no pay' in addressing the strike, 'Governor Martin Elechi has insisted that all the staff of EBSU should continue to be paid their salaries.'