FG SPENDS N22.3BN AS SUBSIDY FOR FERTILIZER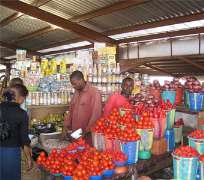 Market scene in Abuja, Nigeria. Photo Tom Hargrove
Minister of Agriculture and Rural Development Prof Sheikh Abdullah has said that federal government has provided the sum of N22.30 billion as 25% subsidy for the procurement and distribution of 900,000 metric tons of fertilizers to farmers in the 36 states and the FCT.
The Minister made this disclosure at the 2010 ministerial press briefing recently in Abuja, saying, the ministry has continued to provide subsidy support to farmers in the country under the fertilizer market stabilization program.
'During this year (2010), the federal government provided the sum of N22.30 billion as 25% subsidy for the procurement and distribution of 900,000 metric tons of fertilizers to states and the FCT valued at N89.31 billion'
According to him 'this intervention represents the highest provision in any single year since the inception of this programme in 1999 to date, thirty (30) companies are engaged in this year's supply programme which will terminate in February 2011'.
He said that the ministry in its new effort to ensure that the subsidy reaches the desired beneficiaries 'farmers are collaborating with International Fertilizer Development Centre (IFDC) and other stakeholders to upscale the implementation of the fertilizer voucher scheme in the country'.
He further said that the ministry has strengthened the monitoring of the market stabilization program with a view to ensuring that good quality fertilizers are delivered to designated points in the states/FCT at all times.
'In order to reduce the quantum of fertilizers imported into the country on its importation yearly, emphasis is now being placed on partnering with local fertilizer producers i.e. manufacturers and blenders to produce various blends of fertilizers that are suitable for the different crops grown in the six agro_ecological zones of the country'.
Prof Abdullah said that other some other key programs and projects of the federal ministry of agriculture and rural development include 'Rural infrastructure and support services which comprises rural access and mobility project (RAMP)
'Small-scale irrigation infrastructures (SSII) development, rural finance support programmes (RUFIN), Nigerian rural and micro finance institution building program, promoting improved sustainable microfinance service(PRISMS), Agricultural market support services and on_farm/rural storage project (OFRSP)' he said.
The minister enumerated his achievement at the ministry to include finalization of the National Agricultural investment plan (NAIP) Document as a post_compact comprehensive African Agriculture development program (CAADP implementation process in Nigeria.