What'll you do if your in-laws insist that your husband must marry the wife of a dead relative?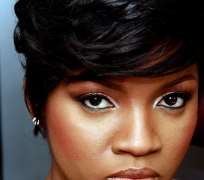 I cannot take it•Christy Essien, Igbokwe-Singer
Well, I really don't know how to answer this question because I am not married to an African. But if I was married to an African, I don't think that I would be able to accept it. If I could fend for myself, I would just leave the marriage to avoid problems that may arise afterwards.
It's up to him to decide•Omotola Jalade Ekeinde, Actress
I will allow him to take a decision on that (laughs). If he decides to marry the wife of a dead relative, why will I be sad? Am I bad-looking? Or do I look like someone that men are not looking for anymore? So, that is his loss. But don't worry; my honey won't do something like that.
If she wants it, no problem•Yeni Kuti-Singer, dancer
It depends on whether or not it is agreeable to the woman. If she is comfortable by it, I will have no problem with it. If she wants to do it, I really don't think that I will have a problem with that.
We will definitely talk about it•Alex Okoroji – Actress, scriptwriter
What if that wasn't possible? I am sure we are probably going to have a lot of conversation about it. I will try and let him see reasons why he cannot have another wife. Taking care of one is already enough responsibility anyway. I will try to convince him against it. Maybe we will try to convince our in-laws and see why it cannot happen. Unfortunately, my husband is a Ghanaian.
It's up to who believes in the tradition•Chioma Toplis, Actress
I don't think that my husband will do such a thing because it is not right. But sincerely, because it has to do with tradition, I will leave it to those who believe in it and who want to do it. If someone believes in that tradition, he or she can go ahead, but some people do not believe in it. I had a brother who did not believe in it and he said no to it because, according to him, it was wrong. So, if I should do so, I will be insulting my brother in death. That was his reply when he was faced with the situation. "I want to cherish him even in death."
He can go ahead, but…•Ify Okeke –Actress
We pray that such a thing doesn't happen. But if it happens, we are Africans and, as far as our culture is concerned, we have to obey. So, you can only pray against it. But if it happens, you cannot leave your matrimonial home because of it; if you do, someone else will gladly take your place. I know that the other woman wouldn't want my husband to 'touch' her; so, she is just answering my husband's name without having a taste of him. This is because I will make sure I keep him occupied at all times.
It's not biblical•Ijeoma Asiegbu, Socialite, businesswoman
Honestly, that is a tough one! I don't think I will ever allow that. First and foremost, I got married to my husband in the Catholic Church and I remember they said it was between him and me. So, I can never accept that. It is not even in the Bible, so why will I accept it?

Alex Okoroji

Chioma Toplis

Chioma Toplis

Ify Okeke

Yeni Kuti

Essien Igbokwe