EU LEADERS MEETING AMID EUROZONE JITTERS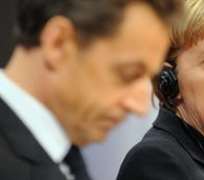 Eurozone leaders accept there is a lot of work needed to protect the euro
Concerns about the stability of the eurozone are set to dominate a meeting of European leaders in Brussels.
The two-day summit is expected to see an agreement to set up a permanent system for rescuing countries that get heavily into debt.
But there is still much debate about how such a system should operate.
Meanwhile concern over Spain's financial stability continued as it was forced to pay a higher rate of interest in a government bond sale.
Spain has been under financial market scrutiny since the Irish Republic was forced to take an aid package of 85bn euros (£72bn; $113bn) last month.
That bail-out followed the 110bn euro rescue of Greece in May.
'Succeed together'
Issues on the agenda in Brussels include:
How to change the European treaty to allow changes to create a permanent stability mechanism for eurozone members
Whether to increase the eurozone's 750bn euro bail-out fund
The possibility of creating pan-European bonds to boost confidence in the euro.
But even assuming that leaders do agree to the way countries are helped, the speed of the political system in Brussels meant a permanent stability arrangement would not come into force until 2013, said BBC Europe correspondent Matthew Price.
The lesson of the last year is – it's best to be prepared for the worst'
Andrew Walker
Economics correspondent, BBC World Service
How private investors will have to share the pain
In the meantime they will have to rely on the current temporary mechanism that has already been used to rescue Greece and the Irish Republic, he added.
And analysts have expressed concern that talks will not address a key issue – whether or not investors who have bought bonds in struggling euro nations will have to lose money, or in the language of the financial world, take a "haircut", on their investment between now and 2013.
This was causing "uncertainty" in financial markets said Carsten Brzeski, a senior analyst at ING.
"This is an inconsistency. The politicians need to address this insolvency issue in the period between now and 2013," he told the BBC.
French Foreign Minister Michele Alliot-Marie said that the EU had to stop speculators from attacking eurozone countries and would adopt ways to do that at the summit.
And separately the Prime Minister of Luxembourg, Jean-Claude Juncker, said European leaders were determined to do everything to ensure the eurozone's financial stability.
On Wednesday, German Chancellor Angela Merkel stressed Berlin's commitment to help its European partners, pledging that: "Nobody in Europe will be abandoned. Europe will succeed together."
But she has been an opponent of some suggested actions, including increasing the eurozone's euro bail-out fund or introducing euro bonds.
Concerns reflected
In its latest bond auction, Madrid managed to raise 2.4bn euros.
But the yield on the Spanish bonds – essentially the interest rate which the government must pay in order to borrow money – was higher than that on previous auctions of similar bonds.
The Spanish treasury sold 1.8bn euros worth of 10-year bonds at an average interest rate of 5.4% – up from 4.6% in the last such auction in November,
And it was forced to pay a rate of 6% to sell 618m euro in 15-year bonds, up from 4.5% in October.
The rising cost of borrowing reflects investors' concern about the outlook for the Spanish economy and its banking sector in particular.
But Madrid denies similarities between the two economies, despite worries over Spain's property and banking sectors.
And it has insisted that it will not need to apply for a bail-out from the European Financial Stability Facility (EFSF) – a rescue scheme backed by the EU and International Monetary Fund.
Downgrade threat
While the demand for Spanish bonds remained oversubscribed, concerns remained about Spain's ability to get affordable funding to refinance its debts and support its banks, said Kathleen Brooks, research director at Forex.com.
And this had wider implications for the single currency she added.
"Spain is the canary in the coal mine for the survival of the eurozone," Ms Brooks said.
"If it was to require a bail-out the current facilities available such as the EFSF would not be large enough to deal with it."
On Wednesday, ratings agency Moody's said it was reviewing Spain's credit rating with a view to downgrading it – warning of problems the country faced in refinancing its debts next year.
Moody's had already cut Spain's sovereign debt rating from the top, triple-A rating to Aa1 in September.
It said that it did not expect Spain to draw on EU-IMF funding, but added the country's funding requirements – for central and local government and its banks – made it "susceptible to further episodes of funding stress".