EGUAVOEN CONFIRMED U-23 COACH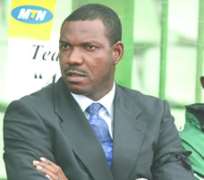 •Eguavoen
Austin Eguavoen's appointment as coach of Nigeria's Under-23 team has been approved by the Technical Committee of the Nigeria Football Federation (NFF).
The committee, which met on Tuesday in Abuja, also took a decision to carry out a review of the technical staff of the national Under-17 team led by Monday Odigie, after the Golden Eaglets failed to qualify for the African Under-17 championship.
Eguavoen is expected to guide the team through the qualifiers for the 10th All Africa Games in Mozambique in 2011 as well as the 2012 Olympic Games in London.
The former international right back has been involved with the national team since managing the Under-17s at the FIFA World Cup in 2001. A year later, he was appointed assistant to Christian Chukwu at the senior level, and stepped up to the position when Chukwu was fired in 2005.
In 2007, he reverted to the position of assistant when German Berti Vogts was appointed, and returned as assistant to Swede Lars Lagerback early this year. Following a disastrous World Cup, the Swede declined an offer to carry on, and Eguavoen was once again installed, this time, as stand-in coach.
All decisions are subject to ratification by the NFF Executive Committee.