DELL PARTNERS REDINGTON NIGERIA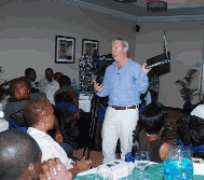 Clune presenting the product features to Redington dealers and computer vendors.
DELL, one of the major leading computer brands in the world has appointed Redington Nigeria, another continental IT player with a strong local base as its sole distributor in Nigeria. This pact was formalized at a dinner at Protea Hotel, Ikeja, where DELL's Head of Global Product and Management, Middle East, Turkey and Africa, Pearce Clune made an elaborate product presentation, to a hall full of Redington dealers and computer vendors.
Clune said DELL has been in partnership with Redington in parts of Middle East and Africa for quite sometime but recently decided to formally enter the Nigerian market through Redington Nigeria.
Justifying the partnership, Alwin Thankachan, DELL Account Manager, Central and West Africa, said they went for the company because it has a proven track record in retail distribution and it also has the reach into most parts of English speaking Africa and could easily serve as a veritable point of contact in DELL's Central Africa business. According to him, Nigeria is the largest market in the central belt of Africa and the potential of this market is far greater than other markets across the region.
In a presentation that spanned several hours, Clune told his audience that DELL is ranked 35 globally and has won over 70 awards in 2010 and 59 awards in 2009.
In order to speak the language customers understand and tailor the products to their specific needs, DELL segmented its market thus: Families with kids; Students; Gamers and Small Business. To this end, you have the entry level, the mid-range and high end products some of which are yet to be fully introduced into the market.
He then went ahead to introduce the Inspiron range, the XPS category, Vostro series and the novel Streak tablet.
The audience was particularly trilled by the new Inspiron Duo which like a pivot window can be converted from a Netbook to a Tablet in less than five seconds. Like a circus magician, Clune simply lifted the lid, turned the screen inside the lid by 180 degrees and shut the Netbook again revealing the reverse side as his audience applauded the seeming abracadabra. The Inspiron Duo is uniquely adapted for movies, games, e-books and reading. Slim and portable like a number of DELL products, it is ideal for those on the move.
DELL XPS is a powerful ultra thin notebook which stands out from the crowd with its high specification and performance. Clune revealed that the XPS range also accommodates users with needs for graphics applications, new games and other forms of resource demanding computer programmes. With great design and aesthetics to its advantage, the XPS enjoys the mobility of a much smaller notebook.
The Vostro is aimed at the small business market and this means that it is affordable. It is a high utility notebook with extraordinary battery life that is of great value to business persons, professionals and office workers.
Clune boasted that in term of product design, DELL is the leading brand and this is why it has won more international awards than any other brand in the industry in the last 3 years.
He said that about 4 years ago, DELL revolutionized the industry by introducing color and personalization into Notebooks. And once that was done, Notebooks became a fashion item that people could identify with. They began to choose colors to match their personalities and they could even indicate what colors they want reflected in their styles. With this trend, color management became to be synonymous with DELL and Clune assured that in the months ahead the industry will witness a line of more innovative and revolutionary products.
Now that DELL has formally made it entry into the Nigerian market, how is the marketing going to be driven? Clune said it a combination of having great products, great partners and great people. He believes his products are market winners any day because they have the style, innovation, product portfolio and screen sizes.
After his presentation, Mamuzo Emielu, a representative of Microsoft, another big partner in the business loop, took the floor. He talked about his company's latest operating system, the Window 7 which is built on the progress made on Window XP and the lessons they learnt from Window Vista.
According to Emielu, Window 7 is more stable and advanced, and it is the best performing operating system ever developed.
He chastised those who buy fake Windows saying they are putting their computers at risk as they come with viruses and harmful applications that endanger their computers after a couple of months.
He said that a Window 7 could serve the owner for the entire lifetime of the system and it comes with a free anti virus the owner could download. An owner is also entitled to free access to softwares that are of high value and security essentials.
The product presentation ended with a dinner.