NEC MEMBERSHIP: PARTY TO DECIDE – JONATHAN, GOVERNORS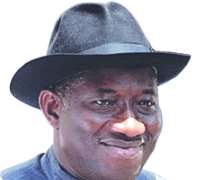 President Goodluck Jonathan
An emergency meeting held yesterday at the Presidential Villa, Abuja ended with President Goodluck Jonathan and the Governors on the Peoples Democratic Party (PDP) platform resolving to let the party decide who would be members of National Executive Committee (NEC).
Sources at the meeting, which ended at 7pm at House 7 in the villa said that all knotty issues which generated disagreements had been resolved.
'We have resolved all the issues and we agreed that the issue of who becomes NEC member should be decided by the party. There are no more problems. We have agreed on everything,' a party member confirmed last night.
Members of the National Assembly had been pushing to include themselves as members of their parties' NEC, a move which had been stoutly resisted by political parties, state governors and members of the civil society.
The PDP's highest decision making body was unable to resolve the issue at its 54th meeting earlier in the day yesterday and has scheduled another meeting for Thursday with the hope that all the thorny issues would be resolved by then.