DCC Machines: FG Opts To Deploy Military To Airports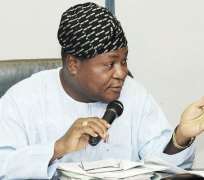 ABUJA, Dec 13, (THEWILL) - The Federal Government weekend gave a directive that the Nigerian Armed Forces will now be part of the security apparatus at the airports following the theft of Data Capturing Machines (DDC) imported for INEC at the Murtala Mohammed International Airport, Lagos.
Of the twenty stolen machines, 16 have so far been recovered and four have been arrested in connection with the theft. Some of the machines imported by contractors working for the Independent National Electoral Commission (INEC) were stolen last week at the MMIA.
But Minister of Defence, Prince Adetokunbo Kayode (SAN), who dropped the hint of deploying the military to join other security agencies said weekend that the theft should not be politicised.
According to Prince Kayode, the theft was part of security challenges bedevilling the nation and promised that everything humanly possible will be done to address the hiccups, while charging security agencies to live up to expectations of Nigerians. "Internal security is one of the biggest challenges we have in this country. That is why we have not left everything to the police alone. Mr. President has directed all the Armed Forces to support the police to ensure that our internal democracy is stabilised. "Theft in any airport is normal, but it is not acceptable, although it is common. What happened was that some petty criminals stole some computers. Though they have all been arrested, it just showed that it is not uncommon. "Many times, you travel outside the country and you discover that your bag is missing. In fact, some airports are even worst; you have to hold on to your trousers because before you know it, your trouser is gone. "I don't want us to read political meanings to the issue; it was common criminals that stole the computers. These are equipment being supplied by a contractor that has not being delivered to the electoral body," the Minister said. While commenting on the much-touted internal democracy in order to ensure democratic tenets, he said series of political parties in the country are facing the challenges of internal democracy, adding that "the smaller parties are worse than the PDP when it comes to internal democracy."
"Internal democracy is a challenge to all political parties; it will be foolish for any party to think that it is only the PDP that has the problem of internal democracy. The PDP is huge and have bigger challenges than all these small parties. The small parties that control two or three states are not better than the PDP in terms of internal democracy. "What is currently happening in the fold of the Action Congress of Nigeria in Lagos State is a good example. There were protests because some people said they were being sidelined," he said.