POVERTY ERADICATION: OYO EMPOWERS 12,990 RURAL WOMEN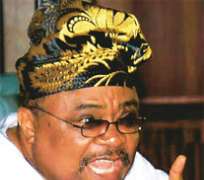 Governor of Oyo State, Chief A
As part of efforts aimed at achieving its 13-point agenda, the Oyo State Government has commenced its next phase of empowerment programme with a target of about 12,990 rural women.
About 12,000 women from the six zones in the state are expected to benefit from the first part of the programme while about 990 women from the state's 14 federal constituencies would benefit from the second part.
Although both programmes would run simultaneously, a consulting firm, MS 7 is handling the first part in conjunction with the state Ministry of Women Affairs, Community Development and Social Welfare, while Good Attitude Nigeria Limited will handle the second part.
Speaking with journalists in Ibadan, the state capital, on Friday, Mr. Festus Alade of MS7 said the empowerment with the theme 'Empowering women via agro-based ventures' is aimed at teaching the beneficiaries who are mostly in the rural areas how to make use of farm produce which hitherto have been wastes to make money.
He said the step was part of the desire of the state government to meet the Millennium Development Goals and reduce poverty drastically in the state.
On the second part, the Managing Consultant of Good Attitude Nigeria Limited, Mrs. Olunike Olugbodi, said that three-day training would hold in each of the constituencies for rural women on soap making, palm oil production, production of yam flour, smoke fish and soya milk among others.
Olugbodi said that at the end of the programme that would take place in Samonda, Onireke, Mapo, Idi Ayunre, Lalupon, Awe, Eruwa, Igangan, Ajaawa, Tede and Igbeti among others, equipments and not money would be given to participants in addition to their certificates.
She expressed the belief that once women are adequately empowered, peace would reign in the society.
Also, the ministry's Permanent Secretary, Mrs. Modupe Omonigbehin, said that the empowerment programme was a proof of the present administration's genuine desire to achieve all the points in its 13-point agenda.
Describing women as the bedrock of the nation, Omonigbehin said that the administration would not leave any stone unturned to ensure that their fortune is improved.
She recalled that no fewer than 330 women were given equipments recently after being trained in various vocations by the ministry.
'Women empowerment is key and unprecedented in the history of this state,' she added.