THE GOVERNANVCE DECAY IN BAYELSA STATE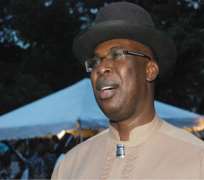 I visited home recently and had a cause to attend a burial ceremony of a friend's relation in a community known as Famgbe near Yenagoa, Bayelsa State. There were several things that caught my attention during the ceremony including the rich culture of the Ijaw people. But the most spectacular one happened in the morning of the burial. The bereaved family and sympathizers woke up only to discover that a brand new pot of soup that was meant for the entertainment of guests has been stolen. It was a mixture of surprise and amusement as a quiet but frantic search commenced in the neighborhood for the missing pot of soup. That effort did not yield any positive result as the pot of soup had developed permanent wings.
I became interested in the matter and went around asking close relatives of the bereaved, what could have motivated the soup theft. "People are hungry" someone volunteered and "this is an opportunity to express it." That answer got me really thinking as I boarded a boat back to my hotel at the mainland.
No sign of Infrastructure
Even though the community we visited is a four-minute boat ride from Yenagoa, there is no sign of infrastructure there. The boats we rode on were very old and shaky while the stinking river also served as a refuse dump. I noticed that our own boat was far better than the ones the community members used. Those ones were dilapidated and waterlogged such that riding on them may be the same as swimming across unaided. But that is not all. Community members have no access to pipe borne water and so most of them depended entirely on the brownish and heavily polluted water from the river. Even with the unbearable stench coming from it, I saw them take their bath with it, drink from there, brush their teeth with it and fetch some home for cooking. Neither is there is any stable electricity. Those who could afford it bought tiny generating sets. About fifty of them were humming, smoking and choking at the same time as the event lasted. This is the reality in a community exactly fifteen minutes from Creek Haven, seat of power in oil rich Bayelsa State. Yenagoa mainland, the state capital has literally become a theater of abandoned projects as majority of citizens gnash their teeth is shanty towns and slums scattered around the city. What a tragedy!
Where are the millions of Petrodollars??
For those who do not know, Bayelsa is one of the beneficiaries of the thirteen percent derivation from oil revenue allocation at source from the federal government. Indeed some months ago, the Governor of Bayelsa State Chief Timipre Sylva admitted to the Cable News Network (CNN) that the state receives at least thirty million dollars (about 4.5 billion naira) every month. This excludes any internally generated revenue. Lately the state government has been accused of financial recklessness and mindless profligacy. Several petitions have been written by citizens of the state to anti-corruption agencies alleging forms of petty and grand corruption. Individuals believed to be cronies and conduits of the governor including his former commissioner of finance Dr. Sylva Opuola Charles (now at large) have been charged by the Economic and Financial Crimes Commission for laundering more than 6 billion naira worth of public resources. A recent petition to the EFCC alleged that Gov Sylva has used a plethora of white elephant projects like the marginal field development by the Bayelsa Oil and Gas Company; feasibility studies for the establishment of Bayelsa Microfinance Bank and renovation 500 bed hospital (already completed by previous administrations) to scam and siphon billions of naira from the state coffers. Paradoxically, Bayelsa State is the only state in Nigeria that is implementing Extractive Industries Transparency Initiative (EITI) at the state level. The Bayelsa Expenditure and Income Transparency Initiative (BEITI), is a multi stakeholder initiative inaugurated by the Sylva government and supported by the US based Revenue Watch Institute (RWI). It was meant to be a platform where civil society groups will raise debate on government expenditure in a manner that will promote transparency and citizen prosperity. Alas this was not to be. Sources in Yenagoa and even within BEITI secretariat confirm that it is a failed public relations project which the administration had jumped into to deceive the public and hide from the searchlight of the international community as they loot public resources with reckless abandon.
The paradox of plenty
Bayelsa State is the smallest of the 36 states in Nigeria (population of 1.7 million in 2006) but however the state has very impressive revenue allocation from the centre. In 2008 boom year Bayelsa State received about 116 billion naira roughly three times the national average. Per capita allocations were over 10 times higher than those in Kano State. One will naturally think that a combination of low population and high revenue will produce development. But, not in Bayelsa State. The last Nigerian Living Standards Survey said that more than 90 percent of Bayelsans are still poor. The World Bank Doing business report 2010 indicated that Bayelsa is the most difficult place to start business in Nigeria due mainly to bureaucratic harassment, insecurity and other issues. The state depends entirely on oil revenue and has a paltry 2 percent of internally generated revenue. Until recently 11,132 unidentified persons drew salaries from government coffers showing that corruption might have been elevated to state policy. The UNDP Niger Delta Development Report reports that the State has the lowest index in the whole of the Niger Delta. The report showed that more that 86 percent of Bayelsans depend on kerosene for light and only 8 percent have access to pipe borne water.An angry population and, a political time bomb.
Many Bayelsans are very angry with the government neglect and infrastructural deficit in the state. Their frustration is palpable on their faces but you dare not say anything critical of the state government in public. Many government officials could not tolerate the rot any longer and had to resign their appointment to challenge Governor Sylva in the 2011 elections. In the PDP alone, there are about eleven aspirants including Mr. Timi Alaibe, Presidential adviser in Jonathan's government who is believed to enjoy enormous grassroots support and whose entry was greeted with wild excitement and jubilation in Yenagoa last week. But the state Peoples Democratic Party machinery still remains under the firm grip of Mr. Sylva who is willing to use it as a bargaining chip for supporting President Jonathan. Rumors have it that many ex-militants loyal to Gov Sylva are spoiling for a showdown to ensure that their man retains the PDP ticket. Recently there have been several attacks allegedly targeted at perceived political opponents like the impeached deputy governor Hon. Peremobowei Ebebi and Sylva's staunch challenger, Alaibe. As the 2011 elections approach, the most certain thing in Yenagoa and indeed the entire state, is uncertainty. Judging by recent events, Bayelsa State is one political time bomb waiting to happen, sadly under the nose of President Goodluck Ebelemi Jonathan. The question in the mind and mouth of every Bayelsan you encounter is therefore: who will bell the cat?
Uche Igwe is a researcher at Africa Program at Paul H.Nitze School of Advanced international Studies, John's Hopkins University Washington DC USA.
Disclaimer:

"The views/contents expressed in this article are the sole responsibility of

thewillnigeria.com

and do not necessarily reflect those of The Nigerian Voice. The Nigerian Voice will not be responsible or liable for any inaccurate or incorrect statements contained in this article."
Articles by thewillnigeria.com