NIGERIA: 2010 THE YEAR OF CONSENSUS LAUGHTER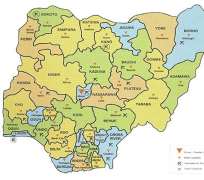 I had dozed off on the sofa in my sitting room, personal computer by my head...my facebook page was open...In my sleep I was reading a friend and sister Ramatu on the social network and she had this to say "Now that we now have a new terminology 'consensus candidate' I trust our people to come up with more-consensus wife, consensus contribution/salary, consensus muu muu et al. We shall soon be consensually mad!" she ended. At the vendor's days later, I was eavesdropping in on a conversation, as a call credit card retailer asked "are you laughing with them, at them, for them or against them"? Nigeria is heading towards interesting times, as we gear towards 2011, I can only recall in the late 80s into the 90s when the Pentecostal fire was hot among Christians in Nigeria, the trend, year of this and that commenced, for full effects into the late 90's, these years were branded via stickers, banners etc. I recall a church had a year of laughter, one of double portion, the tags were endless. I was part of traffic that stopped on the major Ilorin-Ajase-Ipo road for several hours because thirty militants from the Niger/Delta brought to National Centre for Agricultural Mechanization (NCAM) for training were on a peaceful demonstration, did not even know such a place existed. The militants were brought there for training in mechanized agriculture; their grouse was over poor treatment and non-payment of their allowances by the centre. Days later I got the full gist that the militants were not happy over the hostel accommodation provided for them, it was self-contained apartments but the militants rejected it and asked for NICON NOGA treatment. They militants harassed everyone from gateman, cook, to the director of the centre. One of the ex-militants who identified himself as 'The Bull' noted that their action was just to warn the authorities to consider their plight and welfare. 'Bull' urged the authorities involved to pay their allowances and benefits without further delay. So sad that if it is not John Bull, it is John Togo or Tomple Government, how did we all get here as a nation, if not by consensus? A nation with misplaced priorities, after a little noise, we withdraw into our shelves and our leaders with our consent laugh at us. It was only last year that a Women Affairs Minister stormed the UN General Assembly for a one day conference with what till date is the largest (73) turnout till date and what did they go to discuss, "Nudity". The Bill prescribes three months imprisonment for ladies who display their belly buttons, breasts or wear miniskirts in public places. We cannot remember that anymore, just years back we were lamenting how the late Yar'adua was left out of a meeting of World leaders in the heat of the global recession, today are we any better. No, we are not and we have not collectively resisted them, rather by consensus they continue to treat us to Baba Aluwe comedy show... In Benin, former Finance Minister Ngozi Okonjo-Iweala on the Benin-Lagos expressway had this is to say "If Government allocates resources to do these two or three major highways, Nigerians should be so happy. Nigerians are very undemanding of their government; by the way, expectations are so low. So just doing those few things will be enough. But I think that the reason why they don't get fixed and here I am going to talk in my usual straight forward way is because we have governance challenges in the road sector. Where does the money go? But I am also asking you (audience) because you are citizens of this country it is your job to ask Government where does the money go", she stated. Note her words...we are a nation with low expectations, we are easily excited, very undemanding and by consensus everything goes, if Fayose says Obj "You are bastard", Obasanjo will in consensus reply, "You too you are a bastard". She empathetically asked where does the money go? I do not know all the places the monies disappear to, but at least most of us know that some goes to salaries and allowances of legislooters, contractors run with theirs and take to churches, mosques, academic and traditional institutions where they are honoured for stealing. After all is that not why by consensus after stealing and illegitimately occupying an office a removed governor holds a thanksgiving service with the who is who in attendance. It is our job to ask where is the money but they laugh at us, knowing that we will not have the guts to ask, they laugh with us telling us they are working out something for us, we laugh with them, because temporarily our own person don climb the political ladder so don't complain too much. We are looted by consensus, we are argue about who steals more is it the Yoruba, Ibo, Hausa or Ijaw man. The World Bank madam continued "...It started a long time ago and we have tolerated it..." We coined all sorts of phrase, like it is well, God go catch them, one day na one day, yet we are by consensus signatories to the collective misbehaviour of the animals in human skin that lead this nation. Soon they will auction Aso Rock, hence every four years we must sell government properties to Legislooters, we just whine and the sale is almost done. I laughed as EFCC for lack of what to do, after all they have made some billions for Nigerian through the innovative plea bargain, so they went ala Dick Cheney. Which Dick Cheney are they talking about? One old teacher Chika even asked me, "no be that wicked vice president of Obodo USA", I answered in the affirmative. AG should stop this joke because it is not funny at all. The same EFCC that cannot investigate and prosecute bigwigs like Odili, or that pursues one case for years and pats the culprit on the back. Who are they trying to fool? Apparently, Nigerians are the fools, because by consensus people are buying the stunt. Anyway, there will be no trial, so, why worry, there may just be a thread to get at the consensus man Atiku. By consensus our elected officials consider our commonwealth as theirs to do with as they please. With the continued level of indiscipline, insensitivity, greed, and just sheer self-indulgence among the ruling class, one had expected that we will have started the revolution. But we keep mute by consensus. I was musing the other day, we sell the official residence of the Senate President to Mark, and mark my words, he still draws his military pension, he then gets paid for life for one reason or by the consensus of being a member of council of states and we watch on. Why is it that Jonathan and his government need "$1.215b from International Development Association, $540 million from the French Development Agency, $1 billion from China Global Facility, $50 million from Japanese ODA for infrastructural development and social programme development & $100 million from the Indian Credit Line. Maybe we should add Benin Republic to the list, they can at least supply us with 15year old cars through their borders, and all we need is a consensus agreement. As I end this essay I had with many Nigerians believed that we may have a semblance of a credible elections and I have not lost hope, but with Mr. Fix It again on the podium screaming "NO VACANCY IN ASO ROCK". We hope that he will suffer consensus shame, because if there is no vacancy why spend billions in the name of elections. Anyway it is the usual consensus statement...I hope as we enter 2011, by consensus Nigerians can get one thing right...chase these crazy baldheads out of the Nigerian yard. Let us have the last laugh at them, not for them or by them but let their downfall bring us joy. And then I woke up to reality...
Disclaimer:

"The views/contents expressed in this article are the sole responsibility of

thewillnigeria.com

and do not necessarily reflect those of The Nigerian Voice. The Nigerian Voice will not be responsible or liable for any inaccurate or incorrect statements contained in this article."
Articles by thewillnigeria.com