JONATHAN VS ATIKU: WHO IS BEST FOR NIGERIA?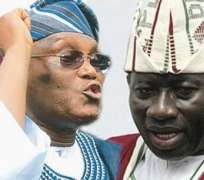 Atiku Abubakar, former vice president, 1999-2007, was recently selected to challenge President Goodluck Jonathan for the ruling People's Democratic Party (PDP) nomination in next year's presidential election by the Mallam Adamu Ciroma's Northern Politicians Leadership Forum (NPLF). His selection comes as a surprise to many outside the controversial NPLF as some influential politicians within the group had desired and hoped for the selection of former dictator Gen. Ibrahim Babangida who they think (feel) is a more formidable challenge to the President. Abubakar reacted to his tainted "backroom and secretive" selection by commenting that he was humbled by this endorsement and that he accepted it wholeheartedly, with humility and sense of responsibility. He went on to state that he commended the Consensus Committee for this endorsement and for their sacrifice, their patriotism, their commitment and their integrity, that they have made an important contribution to the unity and stability of this country. Despite his rhetorical optimism, his "backroom and secretive" selection has proven to be quite divisive for the People's Democratic Party (PDP) and Nigeria as a whole. Not only has his selection weakened the Northern consensus coalition within the PDP, resulting in defections of Northern Governors to the Jonathan camp, but it has further cast doubt on the legitimacy of his candidacy and the Zoning debate. Irrespective of the controversy surrounding his "backroom and secretive" selection, Abubakar is unlikely to take a backseat as the opposing front runner against incumbent President Jonathan. Thus, the question on every Nigerian's mind, as we move forward, is: who is best for Nigeria, Jonathan or Atiku?
President Goodluck Jonathan has the advantage of incumbency. As incumbent president and de facto leader of the PDP, he inevitably commands the loyalty and support of the PDP structure and the overwhelming majority of PDP members. Moreover, he is admired by many within Nigeria and the international community as a force for change in Nigerian politics, an Obama of Nigeria, untied to the parasitic political establishment that has ruled Nigeria, and impeded its progress, since independence. He has also demonstrated clearly that he is a leader that embodies action not rhetoric; in his words, a leader that's "loyal to Nigeria" and not the North, South, or a Committee, a God fearing leader. The President has sought to fulfill his promises with concrete and recognizable administrative actions. Since taking office on May 6, 2010, the President has earned the admiration of Nigerians with the fulfillment of a number of administrative initiatives. Responding to the energy crisis in Nigeria, in early July, President Jonathan appointed the distinguished Professor Bart Nnaji as his chief advisor on energy, tasking him with heading the Presidential Task Force on Power, which has since produced a credible and pragmatic blueprint for Nigeria's self-sufficiency in generation and uninterrupted supply of electricity. On July 15th, haven heard complaints about the state of roads in parts of Nigeria, he ordered the Minister of Works to speed up repair works on the Lagos-Benin, Abuja-Kaduna, Onitsha-Enugu and Yola-Maiduguri roads. A few days later, he commissioned a number of projects executed by the Governor Akpabio administration of Akwa State, most notably, the Akwa Ibom International Airport, eventually upgrading it to international standards, and making Nigeria's airspace totally covered by radar as a result of the Total Radar Coverage of the Nigerian Airspace Project (TRACON), thereby enabling Nigeria to be granted Certificate 1 certification by the U.S Federal Aviation Authority, allowing Airways operated by Nigeria or Nigerians to operate direct flights to major US cities; along with the upgrading of the Akanu Ibiam Airport in Enugu, making Nigeria a regional aviation hub as the only Western African country with this certification.
This was followed by the signing into law of the Asset Management Corporation of Nigeria (AMCN) Bill geared towards stimulating economic recovery and restoring confidence in the banking sector and the capital market as well as improving Nigeria's international credit and risk ratings. On July 21st, his administration inaugurated a Task Force to implement a one year Action Plan for the Education sector intended at building and increasing institutional capacity and improving the skills of teachers in Nigeria as well as engendering and advancing scientific research and technological innovation by Nigeria's Universities. In line with his promise to improve the Nigerian economy and reduce unemployment, the President constituted an inter-Ministerial Committee on Cocoa production and processing to revive the ailing Cocoa industry that, along with other agricultural sectors such rubber, cotton, groundnut, and gum Arabic, used to be the hallmark of the Nigerian economy. President Jonathan has directed the Central Bank of Nigeria to provide 500 billion Naira to fund, recently privatized, power and struggling manufacturing sectors. He has also organized funds to aid the Nigerian entertainment industry. Meanwhile, keeping to his promise of cleaning up Nigeria's image and making it more conducive for foreign investors, he has mandated the head of the Securities and Exchange Commission, Arunma Oteh, to use any means backed by law to bring all those responsible for financial crimes to justice. To underscore his courage and commitment to ensure that Nigeria's 2011 Elections will be credible, free and fair, President Goodluck Jonathan appointed Prof Jega, a nationally acclaimed independent activist for sociopolitical reform and progress, as the Chairman of the Independent National Electoral Commission (INEC); besides ensuring that Nigerians with partisan political affiliation or inclination are not appointed as Electoral Commissioners. In addition, he has embarked on the reformation of the Nigerian police force, besides providing it with the necessary high-tech equipment to improve its law enforcement capacities. As a result, Nigerians have seen visible results in the country, the most recent being the raising of the minimum wage to 18, 000 Naira. The economy is growing at a pace of 7% and is scheduled to reach 12% by 2012.
Atiku Abubakar on the other hand, is widely and rightly seen as not only a status-quo candidate, but more trouble, a Mallam Adamu Ciroma´s consensus candidate, an embodiment of Nigeria's parasitic past. Previously an influential role player, Abubakar switched allegiance to the Action Congress Party in 2006, but has since returned to the PDP political platform. Arguably one of Nigeria's wealthiest, Abubakar seeks to persuade Nigerians that he is the right choice for Nigeria, but his credentials are more tainted than they are substantial. Abubakar's presidential credentials are mostly substantiated by his claim of philanthropic endeavors as opposed to public service. On the plus side, from a facebook article, Abubakar Atiku claimed to have built schools and mosques across the country, as well as attending to the medical and scholarly needs of a number of disadvantaged Nigerians at home and abroad. Outside of his claimed philanthropic endeavors, Abubakar's public service to Nigeria has been marked by controversy and self seeking motivations. Indeed, Atiku's credentials for advancing education in Nigeria, in his capacity as a private entrepreneur of schools, are grievously undermined by the comatose state of our public schools and universities during and after his tenure as Vice President. Rather than build private schools and universities, which are beyond the reach of average Nigerians, it would have been great public service and true philanthropy for him to have invested his financial resources to improve Nigeria's public schools and universities! It is indeed very pathetic and unacceptable that Atiku recently boasted, in published reports, that he pays his university lecturers more than a million US dollars (one hundred and fifty million naira) per month!! Such gross profligacy can only be engendered and fueled by the wanton looting of public funds by public officers in Nigeria; nobody will throw away his hard-earned money as Atiku is doing. The evidence strongly suggests that Atiku has used his opportunity in public service to advance his personal cum business interests at the expense of the public good. As Vice President under former President Olusegun Obasanjo, he had presided over the National Council on Privatization in which allegations surfaced that he had sold a number of privatized state enterprises to himself. In a United States investigation of United States Congressman Bill Jefferson in 2005, Abubakar was named as a recipient of a $500,000.00 bribery offer from the Congressman for business contracts. Furthermore, there are other ongoing U.S bribery investigations implicating Abubakar and his wife Jennifer Atiku.
This election, Nigerians more than ever, will go to the polls asking the question, who is best for Nigeria. To Presidential hopeful and current President, Goodluck Jonathan, Nigerians cry, "will you live up to expectations"? "Will you continue to lead with resolve and conviction"? To Atiku Abubakar, they ask, "can the nation trust an unproven leader tainted with strong allegations of self-aggrandizement and corruption"? The cry is both one of patriotism and one of nationalism, a challenge to all presidential hopefuls to be committed to their cause. It seems convincing that in this election, Nigerians will elect a leader, whose allegiance is to the entire country, and not a parochial or sectional Consensus Committee; a leader, whose presidential ambitions are not self-seeking but selfless. For these reasons, on April 9th, 2011, Nigerians are bound to elect President Goodluck Jonathan as the 14th Head of State of the Federal Republic of Nigeria.
Miracle Obeta, Director, Nigerian Progressive Group, writes from Miami University, Oxford, Ohio, USA.
Disclaimer:

"The views/contents expressed in this article are the sole responsibility of

thewillnigeria.com

and do not necessarily reflect those of The Nigerian Voice. The Nigerian Voice will not be responsible or liable for any inaccurate or incorrect statements contained in this article."
Articles by thewillnigeria.com