ACN: No Plan To Change Winning Team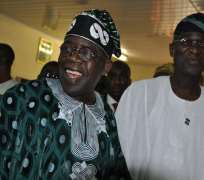 LAGOS, Dec 12, (THEWILL) - Lagos State Chapter of the Action Congress of Nigeria (ACN) today said there was no point for the party to change a winning team (apparently referring to the incumbent Governor Babatunde Raji Fashola).
The state Chairman of the party, Otunba Henry Oladele Ajomale made the declaration while responding to questions from journalists after the state congress was concluded at the state secretariat of the party along Acme Road in Ogba, Ikeja.
When asked about Fashola's chance for re-election, Ajomale, whose position was ratified at the state congress of the party along with other state executives, simply said, "there is no point changing a winning team."
At the congress, the party elected 23 state executives through ratification of the outcome of the 2006 congress while 21 ex-officio executives were elected through the same process to serve another 4-year term.
But former Lagos State Governor, Asiwaju Bola Ahmed Tinubu said the Action Congress of Nigeria (ACN) would definitely capture power at the national level in the 2011 general elections.
Tinubu, who arrived the Acme Road secretariat of the party in the same Land Rover Jeep with his successor, Governor Fashola, spoke with journalists after the end of the state congress.
After holding a close-door meeting the newly elected chieftains of the party led by Otunba Oladele Ajomale, the former governor said the party has been repositioned to capture power at the centre in the 2011 general elections.
"The ACN will capture power at the federal level in 2011. The symbol of the party is in Holy Bible and Holy Koran. We will sweep the evil of regressive people of the destructive party in the next elections," Tinubu said.
Photo L-R: Lagos ACN Chairman, Otunba Henry Dele Ajomale, Asiwaju Bola Tinubu and Lagos Governor Babatunde Fashola, SAN, at the state ACN congress in Ikeja, Lagos.
Tinubu also advocated that all political parties should sign a code of conduct irrespective of their political platforms with a view to providing an environment conducive for credible, free and fair elections in the next elections.
The former governor added that non-governmental organisations (NGOs) and civil society organisations (CSOs) should also join the political parties to ensure that the next elections are free of violence, rigging and other electoral vices.
He said all the political parties and stakeholders "must abide by law of the land. That will show that we are mature and ready to defend our democracy. We cannot be democrats if we are not prepared to accept the result of an election."