Electoral Bill: Atiku Cautions On Constricting Democratic Space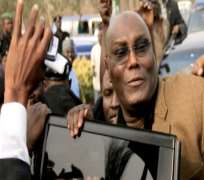 SAN FRANCISCO, Dec 11, (THEWILL) - The Atiku Abubakar Campaign Organization has expressed reservations about many clauses in the new electoral bill recently passed by the House of Representatives.
In a statement released in Abuja today, the Campaign Organization said many of the clauses in the new bill have the potentials of reducing rather than expanding the democratic space in the country.
"The clause reducing the number of delegates by almost one-third reduces the democratic space rather than expand it.
"The decision to remove members of state assemblies, party chairmen and local council chairmen from the list of delegates for the election of presidential candidates for the political parties for instance not only reduces the democratic space, it also poses the threat of isolating the parties from the grassroots where their strengths should lie.
"The Party chairmen in local councils, council chairmen and members of state assemblies are the faces of the parties at the grassroots.
"These are the point's men of the party in the grassroots. They provide the liaison between the party at the federal, state and local council levels. Their removal from the delegates' list therefore poses a threat to the grassroots base for the political parties," the statement said.
The Campaign Organization also queried the clause in the bill which mandates the hosting of the party presidential primaries in Abuja rather than the states where they were designed in the previous bill.
"The logic behind holding presidential primaries is to ensure that presidential candidates visit the states and become familiar with the problems and aspirations of Nigerians across the country. The hosting of presidential primaries in Abuja poses the danger of producing presidents who are not familiar with the experiences of Nigerians in the states.
"If the presidential candidates truly want to serve Nigerians, they should not only campaign in the states, they should test their acceptability in the states as well."The Campaign Organization called on the Senate to review the bill when it deliberates on it to ensure that the electoral bill expands the democratic space rather than constricts it.
"Passing the bill as it is presently constituted, poses grave danger to our democracy," the Campaign Organisation added.It appealed to the PDP, other political parties and civil society to intervene to save the nation's nascent democracy.