AKUNYILI TASKS JOURNALITSTS AT SOYINKA MEDIA AWARDS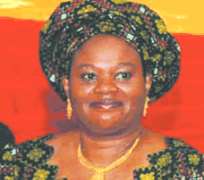 Prof. Dora Akunyili
Minister of Information and Communications, Prof. Dora Akunyili, urged journalists to adhere to professional ethics to meet the nation's target of free and fair elections in 2011. This came on the heels of the honour of first female editor-in-Chief, Dr. Doyinsola Abiola and anti-corruption defender, the late Gani Fawehinmi (SAN).
Speaking at the fifth Wole Soyinka Award for Investigative Reporting, Akunyili said: 'There is the need to do more in ensuring strict adherence to professional ethics by the media practitioners. The media had no doubt played significant role in the enthronement of democracy in this country; they, therefore, have an obligation to continue to strive for the sustenance of democratic values. Against this background, I urge the media to exhibit high professional standard in the discharge of their duties, especially to help meet the nation's quest for free and fair elections in 2011. The objective coverage of the electoral process will no doubt give way to the ideals of one man, one vote.'
The minister, who was represented by Mr. Bola Agbola, director, marketing, Radio Nigeria, Lagos operation, said, 'while government is working to enhance access to information, we must, however, realise that every freedom comes with great responsibility. The government is not relenting its effort to upgrade media technology as well as formulating of economic policies that would positively impact on the well-being of the media.'
She noted that the media is a link between the government and the people, adding that the government had provided an enabling environment for media to flourish.
According to her, the government wants to make sure that practising journalism is safe.
Earlier, the Netherlands Ambassador to Nigeria, Mr. Berend Jan Ronhaar, said his people were committed to contribute positively to the country.
'We want to be part of moving the country forward,' he stated.
In the award for investigative journalism, which was organised by the Wole Soyinka Centre for Investigative Journalism (WSCIJ) and supported by The Netherlands Embassy; British High Commission and the Lagos State Ministry of the Environment, Badejo Ademuyiwa of BusinessDay emerged winner in the print category. Mr. Emmanuel Mayah of The Sun was first runner up, Chukwuma Muaya emerged second runner-up.
In the online category, Peter Nkanga emerged winner, followed by Nicholas Ibekwe both from Next newspaper. Femi Ipaye from PM News won photojournalism prize, while Olatunji Obasa (The News) was first runner-up and Sunday Aghaeze (Thisday), second runner-up.
The two honorary awards, Lifetime award for journalistic excellence went to Dr. Doyin Abiola, while Anti-Corruption Defender Award was presented posthumously to Gani Fawehinmi, and was received by his wife, Ganiyat.