APPELLATE REVIEW OF THE ANAMBRA GOVERNORSHIP POLL: RIGHTS GROUP RAISES ALARM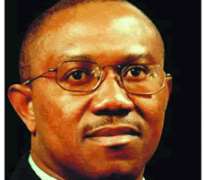 •Obi
Intersociety, a human rights group based in Anambra State, has expressed fear over Anambra gubernatorial cases pending at the Court of Appeal.
In one week, the group wrote twice to the President of the Court, Justice Ayo Isa Salami over the matter.
In its first letter, ref Intersociety/Vol.07/12/2010/CA/P/ABJ/Nig and signed by the Chairman of its Board of Trustees, Emeka Umeagbalasi and Head of Publicity Desk, Justus Ijeoma, the group urged the court to continue to discharge justice without fear or favour.
In its second letter ref Intersociety/Vol.07/12/2010/CA/P/ABJ/Nig, the group raised alarm over what it described as 'rumour to use negative judicial means to return Anambra State to a riotous era.' Part of the text of the letter reads:
'We earlier released a two-page letter to Your Lordship over the subject matter above but few hours after the departure of the letter, calls from different quarters were directed to us over rumour in some quarters that plans have been made to use negative judicial means to return Anambra State of Nigeria to a riotous era. It is also rumoured that some members of the panel set up to review the consolidated appeals are sympathetic to certain political camps desperate to have their way without recourse to fair proceedings.
'The rumour also had it that some politicians belonging to a particular political party are boasting that Your Lordship is sympathetic to a leader of the party in Nigeria. The rumours were reportedly predicated on recent popular election petitions' judgments in some states in a particular geopolitical zone, which favoured the said political party. A certain presidential aspirant who is said to be well connected to the Bench was fingered as their anchor person.
'Ordinarily, these rumours may not have worth our writing to Your Lordship, but in Nigeria, no rumour is taken lightly until its falsehood is fully established. Nigeria has become a country of impossibility where anything goes. This is a country where a legislative election matter with a four-year mandate has been made to last for 2 1/2 years at a division of the Court of Appeal after it was heard for only one year at its original proceedings at the tribunal.'