2011: SARAKI DEBUNKS ENDORSING ANY CANDIDATE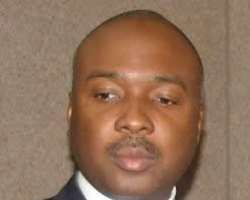 •Gov. Bukola
As the race for the governorship candidate of the ruling Peoples Democratic Party gathers momentum, the Kwara State Government has debunked a widespread rumour that a particular aspirant has been endorsed for the 2011 gubernatorial election  by Governor Bukola Saraki.
In a  reaction, through a press statement from  the Chief Press Secretary to the governor, Alhaji Mas'ud Adebimpe, the government debunked the claim, describing it as an outright falsehood that had no iota of truth.
The governor, who made the clarification, also disclosed that he had not endorsed any aspirant for the gubernatorial race, as the position was open to all the aspirants who were bonafide citizens and loyal members of the Peoples Democratic Party in the state.
His words: 'There is no iota of truth in the rumour circulating in the public domain that Governor Bukola Saraki has anointed or endorsed any of the aspirants for the 2011 gubernatorial race in the state, all aspirants would be accorded the same opportunity in the forthcoming party primaries.'
According to him, all aspirants that informed him of their aspiration to run for the governorship race were all given the go ahead by him to test their popularity among their people. Any aspirant who had so far signified interest to run, Saraki said, had the right as a citizen of the state and bonafide party member to aspire for the office of the number one citizen of the state.
He noted that the PDP, as large as it was, remained an indivisible family that would continue to provide good governance for the people of the state. Saraki, however, disclosed further that all aspirants seeking to contest the governorship election and who had duly informed him of their aspiration were allowed and given free hands to go and test their popularity, stressing that citizens of the state remained the ultimate in deciding who among the aspirants carried the banner.
As a democrat, who believes in democratic process, Saraki maintained that he had not directly or indirectly given specific instruction or directive to any aspirant to obtain nomination form, noting that those who had done so did it out of their own free-will which had not in any way gone contrary to the laws of the land or even the party as the case may be.
He noted that as the father of all,  Saraki promised to ensure that a level playing field would be provided for all aspirants wishing to contest for one position or the other in the forthcoming general elections. He therefore urged party members, supporters and all well wishers to continue to work together as a united family so that we could continue to consolidate on the gains of the purposeful leadership which the state had witnessed in the past seven and a half years and also prepare to move the state further to the next level.