2011: ACN CHIEFTAINS TACKLE ALAO-AKALA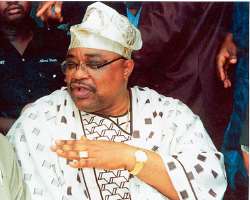 Adebayo Alao-Akala
Two Action Congress of Nigeria governorship aspirants in Oyo State, Chief Femi Lanlehin and Senator Abiola Ajimobi, have said that the state will be plunged into deeper crisis if Governor Adebayo Alao-Akala is re-elected governor.
Lanlehin and Ajimobi spoke in separate statements made available to our correspondent in Ibadan, the state capital.
Lanlehin faulted the position of a former governor of the state, Chief Kolapo Ishola, who reportedly said that Alhaji Lam Adesina should not accuse the Alao-Akala's administration of non performance because Alao-Akala had performed better than he did.
Lanlehin argued that Adesina performed better than Alao-Akala, particularly when funds available to the two governments were put into consideration.
He said, 'About four years now that Akala has started ruling the state, he has got over N300bn from the federal allocation and internally generated revenue. This is the money he has managed on behalf of the state.
'What has he done with it? All the roads are bad. He constructed bad roads across the state. The projects he executed were mere conduit pipe to siphon money. He has wasted the state's money.
'If Akala should go beyond 2011 as canvassed for by his political beneficiaries, then Oyo State would have been destroyed completely before he leaves office in 2015.'
Ajimobi, in his statement, assured the people of the state that the state would be rescued from the shackles of the insensitive government with the support of the citizens in the 2011 general elections.
A statement by his Media Assistant, Mr. Tunde Muraina, quoted Ajimobi as saying that the state had a lot of untapped resources that could be used to better the lots of the citizens.
'Oyo State has many untapped resources and those tapped are being mismanaged by those in government because they are insensitive to the plights of the people they are governing,' he said.
The ACN chieftain urged the people of the state to be ready to expel agents of destruction in government by registering during the forthcoming registration exercise and guiding their votes in the 2011 general elections.
He said, 'Governor Alao Akala has destroyed the legacies of our past leaders in the state. Oyo State is going backward instead of moving forward and we should not fold our arms and let the anomalies continue.
'We have an opportunity to correct the anomalies during the 2011 election. I promise to transform the state if the people of the state give me their mandate and the state will witness good things like all other ACN controlled states.'
But the governor's Special Adviser on Public Communications, Mr. Dotun Oyelade, said that only a mischievous person would claim that the governor had not done well, with the number of developmental projects being executed in the state.