CAPITAL MARKET REFORMS WILL ENTRENCH TRANSPARENCY – OTEH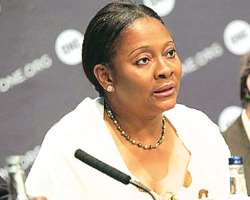 Arunma Oteh
The Director-General, Securities and Exchange Commission, Ms. Arunma Oteh, has said that the ongoing reforms in the capital market will entrench transparency and efficiency when completed.
Oteh said this during a courtesy visit by the Attorney-General of the Federation and Minister of Justice, Mr. Bello Adoke, to the SEC's head office in Abuja on Friday.
According to a statement by the commission, the capital market regulator said it was committed to building a world-class capital market 'that is transparent, accountable and internationally competitive.'
Oteh assured the AGF that there was no going back in the determination of the commission to sanitise the Nigerian capital market, noting that no amount of intimidation or campaign of calumny would deter it from carrying out its statutory mandate as contained in the Investment and Securities Act 2007.
'The SEC remains committed to the protection of investors, regulation and development of the Nigerian capital market, strict adherence to good corporate governance and zero tolerance for market infractions. The ongoing reforms in the capital market may be tough, but the commission remains optimistic that the market and indeed the economy will be better for it,' she said.
She added, 'We inherited a capital market that experienced some challenges such as price turmoil, bearishness and liquidity problems, which resulted from a plethora of factors, including market sharp practices, on assumption of office.
'The trend has, however, changed appreciably through the introduction and adoption of different measures and strategies that have restored market integrity as well as broadened and deepened the capital markets.'
The minister, who described the efforts of the DG as commendable, noted that he was at the commission 'in appreciation of the very commendable works the DG was doing in re-organising and re-focusing the commission.
He urged Oteh not to be distracted, noting that she must continue with the reform initiatives she had introduced at the commission, which were targeted at producing a stable and profitable capital market.