2011: IG REDEPLOYS CPS, OTHERS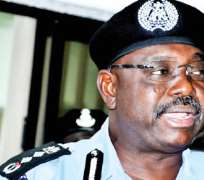 Acting Inspector-General of Police, Mr. Hafiz Ringim
Inspector-General of Police Hafiz Ringim has ordered the redeployment of commissioners of police and deputy commissioners of police across the 36 states.
Coming four months before the 2011 elections, the transfers are meant to give the affected officers time to understand their new jurisdictions.
The exercise, according to police sources, is also meant to rejuvenate the operational efficiency of the Force as the redeployment cuts across departments and units.
Sources told THE PUNCH in Abuja on Tuesday that about 10 CPs had been either transferred to another state or sent to other departments or offices.
Our correspondent gathered that many others, including the Commissioner of Police, Lagos State Command, Mr. Marvel Akpoyibo, might still be affected in the ongoing mass transfer.
Some of the officers, who have already been transferred, are the Principal Staff Officer to the IG, Mr. Olayinka Balogun, who is now the CP in Ekiti State; Mr. Moses Ndagi, who has resumed as the CP in Kaduna State; Armstrong Uda as CP, Cross River State; Fatai Shittu (CP, Zamfara); David Omojola (CP, Edo); and Muktari Ibrahim (CP, Anambra State).
The immediate past CP in Anambra, Mr. Philemon Leha, is now in charge of the Police Mobile Force, Abuja while the CPs in Cross River and Delta states have also been replaced with new officers.
A signal from the IG's office directed the affected officers to resume at their new posts with immediate effect. It also instructed officers occupying a duty post above their ranks not to wear the title.
The directive also affected Mr. Ephraim Amakulor, who was transferred to 'X' Squad, Force Criminal Investigation, Abuja; Mr. Emmanuel Udeoji (Homicide, FCID, Abuja); Mr. Abdulahi Magaji (Commandant, Police College, Ikeja); Mr. Mark Idakwo (Federal SARS, FCID Annex, Lagos); and Mr. Abdullahi Fana (Force Quarter-Master).
Also affected by the exercise are Kakwe Katso (Welfare 'A' Department, FHQ); Chinwe Asadu (Special Fraud Unit, FCID Annex, Lagos); Mohammed Gana (Commandant, Police Staff College, Jos); Jonathan Johnson ('A' FCID, Abuja); Ali Amodu (Central Criminal Registry, FCID Annex, Lagos); Ambrose Isiabor (Explosives and Ordinance); Moses Onireti (Airport); Joseph Ibi ('E' Department,Training, FHQ); and John Morenike (Railway, Lagos).
Others include Ezechukwo Osita, expected to resume as as deputy commandant, Police Academy, Kano; Patrick Egbunwe, INTERPOL, FCID, Lagos; James Oroniyo, Commandant, Police Detective College, Enugu; Ikechukwu Aduba, Administration, Police Academy; Hassan Adamu, Anti-terrorist Squad, FHQ; James Caulcrick, Department of Finance and Supply, Abuja; Buhari Tanko, Border Patrol; and Sherifat Disu-Fapounda, Force Provost-Marshall.
Also on the list are DCPs Sunday Ogbonna, Admin Intelligence, FHQ Annex, Lagos; Nicholas Nkemdeme, Anti-fraud FCID, Abuja; Stephen Attama, Cooperative Annex, Lagos and Samson Ogunlowo as CP, Special Investigation Unit.