Foreign Accounts: Charge Against Tinubu Much Alive - Conduct Bureau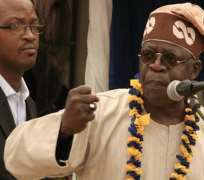 ABUJA, DEC 07, (THEWILL) - For contravening it's Act, the Code of Conduct Bureau (CCB) today revealed that it would re-open its five-year-old case of alleged illegal operation of foreign bank accounts against former governor of Lagos State, Prince Bola Ahmed Tinubu.
In a ministerial press conference today in Abuja, Chairman of the Bureau, Mr. Sam Saba noted that the case against Tinubu is "still very much alive". A charge was preferred against the former governor at the Code of Conduct Tribunal (CCT) for purportedly operating some foreign bank accounts while he served as Governor of Lagos State.
Tinubu was accused of operating foreign bank accounts in his name, the name of his wife and children while he was Lagos State Governor. The former Governor has however dismissed CCB's claim as unfounded.
Saba, while answering reporters' queries today said: "On Monday the Chairman of the Economic and Financial Crimes Commission (EFCC) and I, were discussing the issue. I told her that it is the responsibility of the bureau to prosecute him. His case is still with us.
"I will meet the EFCC Chairman and the Attorney-General of the Federation to get the case file. The case against the former governor and his family is not closed yet."
Bola Tinubu is being tipped to become the Action Congress of Nigeria's (ACN) Vice Presidential candidate on a Muhammadu Buhari ticket in the 2011 Presidential election after successful merger talks between the ACN and Buhari's Congress for Progressive Change (CPC).