Google unveils Chrome OS notebook for test scheme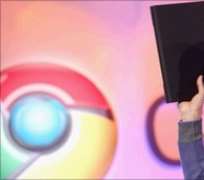 By Maggie Shiels
Technology reporter, BBC News, Silicon Valley
Google has delayed a much anticipated branded laptop powered by its Chrome operating system until next year.
Instead of a Chrome OS device for general release, Google announced a pilot programme aimed at people who "live on the web".
Chrome OS is Google's boldest bid yet to erode Microsoft's market dominance with Windows software.
Google has already gone after one of Microsoft's cash cows, Office, with Google Docs.
Chrome marks a departure in traditional operating systems, offering a light touch approach to controlling a computer's hardware and applications.
It also targets users who spend most of their time on the web and are comfortable relying on the cloud to access their data.
"We think cloud computing will define computing as we know it," said Eric Schmidt, Google's chief operating officer.
"Finally there is a viable third choice for an operating system."
Google's head of product for Chrome, Sundar Pichai, said the pilot scheme is aimed at early adopters, developers and users who are used to using beta software.
They will be given an unbranded black notebook that has been dubbed Cr-48.
Mr Pichai said there would be no devices on sale until next year simply because the software was not ready for prime time, due to a number of bugs and unfinished features.
"This is a profound shift," said Mr Pichai, claiming that the operating system is Google's attempt to "re-think the personal experience for the modern web".
"Chrome is nothing but the web," he added.
Machines for the pilot scheme will start shipping soon.
Consumer devices from Acer and Samsung are due on the market in 2011. No pricing details were given.
Features
At the press event in San Francisco - in front of a crowd of journalists, bloggers and analysts - Google also outlined a number of features in Chrome OS.
Security was at its heart, with automatic updates for users taking away the need to constantly ensure that the latest version has been activated.
The company said that it hoped to be the first to ship a tool called "verified boot" on Chrome OS devices, which makes sure nothing on the machine has been modified or compromised.
"We are confident that when we ship Chrome notebooks, it will be the most secure OS ever shipped to users," said Mr Pichai.
He also said that because data will be accessed through the cloud, users could loan their machines to other people.
"By delivering nothing but the web, it makes it very easy to share your computer," said Mr Pichai.
Google said it has also partnered with telecom titan Verizon to offer connectivity with Chrome notebooks.
The plans range from 100 MB of free data, to $9.99 a day for unlimited data.
There will be no contracts, no activation fees, no overage fees or no cancellation fees.
Concerns
A number of analysts have questioned whether or not Google is making a smart play with the Chrome OS, given that the computing world has changed dramatically since it announced plans for the low-cost operating system over 18 months ago.
In the last year, Apple's iPad has reinvigorated the tablet market, and Google's own Android OS - which powers smartphones - has taken off.
Android is also being used in tablet devices and netbooks, prompting a number of industry watchers to question Google's twin approach in the OS market.
Many fear two Google operating systems will cause confusion for consumers.
Google's Mr Schmidt does not believe it will, and recently stated that Chrome is for keyboards and Android for touch based devices.
The Chrome OS will be given free to hardware manufacturers.
Microsoft, in comparison, charges a fee for its Windows software.
Back in October, the software leader said Windows sales increased by 66% on a year earlier, to $4.8bn, helping to boost first quarter profits.
Browser growth
At the event, Google also revealed that the number of users of their Chrome browser has grown from 70m this summer to 120m.
During a demo, Brian Rakowski, the company's director of product management for Chrome, emphasised the speed of the browser.
He showed how fast Chrome is at loading documents, from a 30-page comic book to the 1990-page Healthcare Reform Bill.
Both demos took a number of seconds, and Google said that thanks to enhancements like a tool called Crankshaft, Chrome is 50 times faster than browsers of two years ago.
"The most important thing is it's all going to be really, really fast," said Mr Rakowski.
The team also emphasised security on Chrome - the most important area according to Mr Pichai, who announced automatic updating.
"The bad guys have it easy on the web these days," he said, because users do not update their browsers frequently enough.
Google also unveiled a Chrome web store to help bring users and developers together.
There are over 500 applications available now, ranging from games to newspapers to books.
Apple said in October it would open an app store for MacIntosh computers, in an effort to replicate its success in apps sold for the iPhone.