'Film directors have not explored a quarter of my talent and I can't understand why'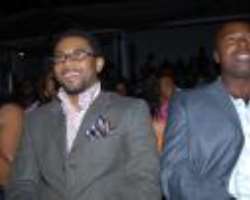 anambra state-born actor and model, Tuvi James appeals to anyone who has seen some of his movies to consider him as an actor who is under-utilized. He told Victor Akande in this interview of the politics in Nollywood and how a film director from Hollywood is looking into his case, among other issues bothering on his family and love life.
CAN you tell us about your background?
I'm an Igbo boy from Nnewi Local Government Area of Anambra State. I was born in Lagos; and I lived all my live in the city. I love sports; I'm athletic. I'm also a motivational speaker.
Since you like sports so much, why did you opt for acting?
The fact that I like sports does not mean I have to be a sports person. When I looked inward, I realized that acting is where I'm most fitted. So, I pursued it. I know it is not going to be easy trying to breakthrough in the movie industry but as long as you are in touch with your inner-self in terms of knowing what area you need to improve yourself, such that when you are being given a role, you interpret it well, then you will arrive. You need to build yourself up in other areas like academics, sports, music and so on. That means you need to be versatile because that is what makes you a good actor.
Is your acting carrier influenced by what you read in school?
Basically I did Computer Engineering and later, Broadcasting at the Federal Radio Corporation of Nigeria (FRCN). Well! It has not influenced me but when you have academic qualifications, they add a touch of life to you. But really, what you study does not matter. When I was a kid, I used to take part in dramas. It's a gift, talent is not something you have to go to schoool to study.
You strike me like someone with so much untapped potentials. For instance, why haven't you practiced Broadcasting even if it's on a part-time?
I did a bit of voice-over after my course. I still do voice-over sometimes when the job comes, but I don't do it because I want to go into broadcasting, rather, because I want to be in tune with my acting carrier. I want to be able to have a voice; as an actor, your voice, your face, your carriage, your interpretation, and charisma put together make up your personality. Broadcasting helps in enhancing my pronounciation of words. As an actor, you are not supposed to have any particular kind of intonations especially when you are speaking English language, your local dialect must not reflect your tribe.
Would you say that as an actor that the best you have got to offer has been explored by any director?
Nobody has explored it so far. It's been difficult and I don't understand why things are like that, that's why my good friend Gugu is here in Nigeria at the moment. Gugu is from Wanna Bros Pictures, to see how some of us he thinks have the potentials can be used in good movies.
How did you meet him?
I do a lot of research on films, and when I watched one of his films, I mailed him. He saw my passion towards the film in the industry and acting, so he picked interest and replied my mail. I later found out that he is a Nigerian but he's being in the U.S for over 20 years. He has a direct link with a lot of studios in Hollywood. He's in Nigeria right now because of me and for the same vision and the same kind of potential we are trying to off-load for the industry. Because if you ask me, I'll say the industry is doing so well, but with so much limitations in the area of professionalism.
What do you think is the problem?
Well, I don't know but I think it's a case of 'man-knows-man' or you need to belong to a clique. I respect the council of elders who started the industry but I'm not going to short-change myself by trying to 'kiss too many asses' just because I want to get roles.
Who are the directors that you are in tune with in the industry?
I'm quite in tune with everybody, its just that I've not really worked with most of them; I'm close to Chico Ejiro, Ernest Obi, Terilah Thompson, Teco Benson, and a few others.
As a model, would we say that your modelling carrier could be a distraction to the acting itself?
No! I don't think so, I'm more into the industry than modelling. Besides, modelling and acting go together. It's not something that takes one's time well enough to snatch me away from my first love which is acting. I believe there is time for everything, there is time and purpose for everyone, you must keep digging until you strike water, and you must not stop and say because you are not working. For instance, I'm not on location now, but I'm busy having meetings with Gugu and with people of like minds who want to change Nollywood.
From your own observations, which areas do you think Nollywood needs to improve upon?
Well, from my experience in Nollywood, the production outfit needs to be seriously worked on. As a director before you cast an artiste, you must, first and foremost be able to win his heart to a particular job that you have chosen him to do. There is something they call moral support; a situation where you as the director would need to hang out with the actor, maybe over dinner or lunch and get to talk about the character and the role you are playing, and you begin to have a deeper understanding of what you are about to do. Then, the producers also will need to improve on the kind of hospitality they give to actors, you know it is a team work.
Your name Tuvi does not sound native, where did you get it from?
My names are Ugochukwu Emeka Ogenetuviere James. A lot of people mistake me for a Benue man, but I'm an Igbo guy. My father is Igbo and my mum is from Delta State, from Urobo, and that's where the name Tuvi emanated from. So, I will call myself a high-breed.
What was growing-up like?
Growing-up, for me, was splendid! Beautiful! I grew up with my mother and father and we spent time travelling to places together. I remember travelling to Egypt with my mum when I was young. So, my growing-up was fun, really. Now, as an adult, I'm faced with the usual challenges of surviving on my own.
How are you catching up with the challenges of being a man?
Yes! Challenges will come, that's what makes you stronger, and that's what makes a man. When challenges come, you just have to face them. I love challenges personally, and that is because of my kind of background. I was brought up in a Christian way, I would say that we were being given the best nurture of life by my parents and my grand parents. It's really helping out today.
Apart from the fact that you are a celebrity, you are obviously a ladies' man. How do you manage that?
People use that word for me a lot 'ladies man' but I'm God's man. Every man who works hard, and is successful is a ladies' man. Every achiever is a ladies' man, every man that carries himself very well is a ladies man. So, it depends on the kind of ladies you are reaching out to. Well! I carry myself very well, so maybe I'm a ladies' man. I'm very friendly with women because I know women are strong and they play strong roles in the society. They also play a very important role in the life of a man. So, you need to respect them.
For someone like you, don't you think that in trying to respect every woman, you might be caught in the love net?
Yes! That is where self-control comes in. Being disciplined can protect you from dangers out there. That does not mean I don't hang out, as a matter of fact, I have a woman and I'm seriously planning something with her.
Are you likely to settle down very soon?
Yes! I'm seriously working on that. I'm working on it.
This year?
I hope by God's grace. You will know when the time comes.