WE'RE SHORING UP CAPITAL BASE FOR OIL & GAS INSURANCE – URANTA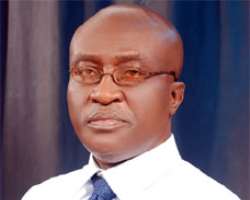 Uranta
When President Goodluck Jonathan, last April, signed the Nigerian Local Content Policy into law, the objective was to promote value addition to the local economy, increase indigenous participation, build local capacity and generally create linkages to other sectors of the national economy to grow local content up to 70 per cent by 2010.
The policy issued by Nigeria National Petroleum Corporation (NNPC) to the international oil companies and other stakeholders in 2005, among other notable objectives, provides that Nigerian independent operators shall be given first consideration in the award of oil blocks; oil filed licenses, oil lifting licenses and in all projects for which contract is to be awarded in the Nigerian oil and gas industry.
It also stipulates that in the bidding for any licence, permit or interest, and before carrying out any project in the Nigerian oil and gas industry, an operator shall submit a Nigerian content plan demonstrating compliance with the Nigerian content requirements.
According to the Act, every multinational company must domicile a minimum of 10 per cent of its annual profit in Nigerian banks, while Nigerian insurance companies must do all aspect of insurance in the oil and gas industry, unless where, in the opinion of the Nigerian insurance commission, the capacity of the Nigerian company has been exhausted.
Riding on the back of this exclusive consideration for Nigerian indigenous service, insurance companies, hitherto inconsequential in oil and gas business insurance, are now gearing up for capital intensive under-writing business.
In an exclusive interview with Daily Sun, the Managing Director and Chief Executive Officer, Niger Insurance Plc., Mr Justus Clinton Uranta, said: 'Government regulation is helping us, compelling companies to apply the local content requirement, which is 40 to 70 per cent. Insurance companies are preparing for it. As we speak, some of us are trying to shore up our capital base voluntarily because when you are engaging in capital intensive business, you must have enough capital to be able to do that.'
Uranta, who has been in practice for close to 30 years, urged practitioners to take claims settlement seriously for, according to him, it is the first test of a solvent company. He added that it is the first encounter that would encourage somebody taking up insurance policy to embrace insurance. 'If he has a claim - for me it's the most effective advertisement - that is the best way to instill confidence in the insured by settling that claim promptly.'
The insurance guru also took a critical look at the fears being expressed over the Pension Funds Administration scheme, suggesting that the funds could be jeopardized through bad investments.
He advised that PFA's should retrace their steps from further investment. 'Let them understudy and understand the practice of this new pension arrangement and implement it to the letter for some time until they have accumulated comfortable surplus margin to invest in other areas, so, that the pension fund itself is not unnecessarily eroded.'
The Niger Insurance boss speaks further on a wide range of issues:
Why indigenous underwriters are not into oil business
Oil business is quite capital intensive. It is an international business. Most times, even in Nigeria, they work it out in dollars. When you convert it to naira, you see that it is a huge chunk in terms of the average insurance company's capital base. So, we must be careful. We are even lucky now that our paid up capital has been pushed up to N5 billion divisible into N2 billion to N3 billion.
When it was N350 million and N200 million, we could not touch the oil business with the longest poll because one single claim could cost about $30 million and when you convert that to naira it could erode the capital base of two to three insurance companies put together. But now we are quite encouraged because there are so many arrangements Nigerian insurance companies are putting in place. And we are getting more enlightened in the oil and gas business. And government regulation is also helping us, compelling companies to apply the local content requirement which is 40 to 70 per cent.
And insurance companies are preparing for it. As we speak some of us are trying to shore up our capital base on our own because when you are going to do capital intensive business, you must have enough capital to be able to do that. The only saving grace is the re-insurance arrangement that we have where we share businesses. Even if you get N100 billion business, you can only keep the level of your retention and cede the balance to other companies and international securities.
Challenges before indigenous insurance companies
The challenges are numerous. One of them is the fact that Government remains the biggest spender even in insurance. As we speak now, we talk about pensions, group life policies for all the agencies and parastatals. One of the problem we have there is the fact that our premium is not paid on time. And it tells on our ability or inability to make provisions for claims when they occur because there is fundamental law of insurance, spreading of the risk.
As insurance company, you cannot keep all the risk which you admit into your portfolio simply because the premium we accept are usually disproportionate to the amount of liability which a typical insured is bringing in.
Take for instance, if a customer's expensive car worth about N10 billion is insured with us, the highest premium we can charge is about 5 percent of the cost which translates to about N500, 000. If he brings the vehicle to our car park and it gets stolen, we are liable. So, the challenge is how to raise N9.5 billion to add to the N500, 000 to be able to meet the claims obligation. So, it means that we need that premium as early as we can to be able to plan. We have to accommodate international securities by also meeting their own financial obligation.
You know that in a developing economy like ours, as soon as a claim occurs and insurance company tries to administer it in a professional way by requesting for documentation, the next story is that the insurance company does not want to pay the claim. So, we try as much as possible to avoid that even when we know that legally speaking we are in the right position. But all the same we try to avoid that negative publicity simply because the teeming public is yet to appreciate insurance.
While a few of them have direct encounter with insurance, majority of them don't have. What happens is that a few who have encounter with insurance spread negative rumour, and that puts us on cautious path because we don't want that negative publicity. What this means is that we always have to make reserve for claims and pay promptly. So when our premium is not forthcoming, it puts us in a very difficult position.
Another challenge facing us is that of government over regulation. There is nothing wrong with regulation but over regulation is counter productive. The industry has come of age. We are trying even on our own now to do self-regulation. As I speak with you now, practitioners in the market have adopted a new market agreement which became effective from December 2009 to streamline a lot of our shortcomings. And that in itself is a kind of self regulation. So, we advise the government and the supervisors not to over regulate the practice because it has its own negative impact.
Thirdly, the dearth of qualified and experienced manpower is yet another challenge. That is why Niger Insurance, as a front liner in the industry quickly foresaw this and adopted human capital development as a deliberate policy to improve on the experience and knowledge of our staff. Finally but not the least, is the fact that the population still needs to enjoy more enlightenment and education. Here, the government is not to blame. And I must also tell you that we are making effort to continue to enlighten them.
As we for example, our women wing which we call PILA, an acronym of ladies arm of practitioners in the industry. What they are doing now is to embark deliberately on a campaign, at the secondary school level, to educate and enlighten them on insurance is so that the young ones will appreciate insurance like any other profession and embrace it at the early stage. And by extension, they will also be knowledgeable enough to educate their parents and other relations. So, it is a very good programme the ladies have put in place.
How to get Nigerians to embrace insurance
One effective way to get Nigerians embrace insurance is for practitioners to take claims settlement seriously. I encourage all of us practitioners to take claims settlement seriously because it is the first test of a solvent company. It is the first encounter that will make somebody taking up insurance policy to embrace insurance. If he has a claim- for me is the most effective advertisement- that best way to instill confidence in him is to settle that claim promptly. After that first impression, the policy holder will certainly be convinced about insurance, and he will strongly embrace it.
Going further, the issue of enlightenment can not be removed entirely. In fact, it is the first step. One need to have a good knowledge of what he is going into before he can appreciate it for what it is. We need to make a concerted effort to enlighten the public. Given our capital base and the vastness of our country, no single insurance company can do enough enlightenment campaign to reach all the target masses. How much can the company spend in Lagos, Abuja, Calabar, Port Harcourt, Kano, Kaduna, Maidugiri, etc? Though one can argue that there are electronic media and other media, but given our low level of literacy, how many of us have access to newspapers, and can read? How many have access to television and can understand the language?
That brings us to another issue which is our poverty level. In Nigeria generally, though we have abundant resources, but they are yet to be properly harnessed in such a way that they can go round. We are still having a very high poverty level and a hungry man, as they say, is an angry man. If an average Nigerian runs into some money, in terms of prioritizing his needs, insurance cannot come any where close to the first three because he has otherr very serious demands for his money such as housing, school fees, health, etc.
But if government can provide these things at an appreciable level, it will reduce the demand on the funds of the average man providing those things himself. Right now, it is a common knowledge that all our offices and homes are like local governments of their own because we have to provide water, generator as source of power, etc. All these things have some pressing demand on the available income of the average Nigerian. But if these things are removed off him, he can begin to think about other equally important things like insurance. In the developed world if somebody is going to buy a car, he will first of all invite an insurance company because he knows the type of car he is going to buy and the value, and in advance insures the vehicle before going to pick it up. But here in Nigeria, the reverse is the case, and I believe it has to do with our poverty level.
So, if government can have a deliberate policy to address all these issues by providing mass housing for the people, make transportation easier and smoother, education affordable, etc the demand on income of an average Nigerian will come down and this will leave him with enough disposable income for other basic things. There is no where in the world government provides insurance for individuals or companies except their own companies. But if government can provide mass housing, electricity, and other basic needs, so that their little disposable income will be available to them to embrace things like insurance.
How crash in prices of insurance stocks affect the companies
After recapitalization of insurance companies, share prices of the stocks started flourishing but when the global meltdown hit Nigeria stocks crashed. It coincided with recapitalization of insurance companies. It appeared as if the recapitalization had no positive impact. But one thing we must take away from all this is that even when share prices seemed to have dipped sharply, that exercise of recapitalization and consolidation created some level of publicity for the teeming population. Some of them who hitherto did not know about insurance or did not appreciate the shares of insurance embraced it and bought into it all right.
The global meltdown, though not limited to any country or sector of business, with its attendant market crash has really stalled our growth. I must tell you that share price of an equity has its own role which is even dual in nature. Rise in share price is an indication that a company is doing well and it has the effect of creating capital appreciation for those who own the shares. Again, it makes possible that even when you are not giving a dividend and give only bonus, those bonuses when converted can translate to good cash.
All these put together have created some problems for those companies which are quoted on the Exchange. An average man that is not well informed uses share price as an indicator of what is happening in the company. But this may not be exactly correct because share price is something external and is beyond the control of a typical company. So it is not correct to use it as a measure of the performance of a company; of course there are other indices you may look at.
PFA's and badly managed funds
Really there are fears that pensioners' funds are badly managed by some pension funds administrators. In Nigeria, we have acquired this habit of copying practices from outside without painstakingly looking into the workability of it in our own environment and economy and possibly, if we must adopt it, modify it to suit our peculiar situation. A situation where PFA's and the custodians themselves did not take time to understudy this pension administration arrangement and appreciate its practice to the letter, what do you expect?
When they find themselves with excess funds, not knowing how to put it to the benefit of pensioners, they are tempted to divert it to other investments hoping that it will yield something better and faster for them to bring back. It seems they have shot themselves on the foot; it is not working out that way. What is going to happen in future is that when the pensioners are ready to call for their funds, there probably will be no funds to pay them.
The PFA's should retrace their steps. Let them have some patience, understudy and understand the practice of this new pension arrangement and implement it to the letter up to some years later when they may have accumulated comfortable surplus margin to invest in other things. So that the pension fund itself is not unnecessarily eroded. It will be regrettable if we are running away from government because they were not addressing the pension issue very well and we put it into the private sector and it gets worse, the end users will be the worse for it.
So, I suggest that the PFA's should have enough patience; they should not be in a hurry to begin to invest in other areas. Their investments should be tailored to the legal requirements as stated by the law establishing them. So if they do that and keep to the rules, I don't think the end users will suffer for it. But the problem with Nigeria is that some of us are too impatient when it comes to things like this. We try to be smart wiz kids and outpace other competitors and in the process end up ruining our investments.
We didn't record loss in our 2009 accounts
We had a gross income of about N7.2bn over and above what we had in previous year of N5.2bn. So, by the time you knock off taxes and other accounting technicalities, we were still left with handsome margin of over N300 million. But the issue is that the new regulatory guideline insists that you must make a lot of provisioning. They even put some regulations.
In the past in accounts, we had what we call bad debt, irrecoverable debts. The definition of all this span into some accounts you cannot recover in the next year or two years or thereabout. But now what we have is that there is a new definition where they say in some cases if you are not able to recover an account in the next three months or thereabout, apply it to outstanding balances and you are compelled to write it off. In actual fact, quite a number of the debts still remain recoverable, and when we recover, the proceeds will be applied to improve our balances.
An extension of that is that where that happens you must make provision for such losses both underwriting and investment losses.
In the past we were able to spread these things over a period of time. But the new rule insists that you must provide for every thing at once. So, there is an unnecessary accumulation, such that even touches on what you had provided for two years back, you even bring it forward and provide for it again in the current fiscal year. So, that has the effect of eroding profit level to the extent that we are looking at loss now. But in terms of our effort, we will not say that we recorded a loss any way because it is regulatory induced loss.
So, whatever the insuring public has seen in our current account as published is not entirely a true reflection of our position as some of the issues are regulatory induced. I want to reassure them that the company is still strong in terms of asset base. We are very strong being an old company that has established some investments. And if the worse comes to the worst, we can stick to the regulatory authorities' view that some of the assets can be realized and turned into cash which is capable of wiping out all the negatives in our accounts now. Having done all these, we are looking forward that the next accounting year will be better, not only for Niger Insurance but also other practitioners that are so affected by the new accounting standard.
Our recoverable debts
As for the recoverable debts, you cannot pin them down to a certain recovery period because, a company like Niger is a going concern. It started in 1962, and I don't know when it would end. We have had several managements over time. Ours is not going to be the last. We will do our best and leave, and the company will continue.
This premium is owed by both brokers and direct clients alike. When a debtor will pay is something you can not predict. We put subtle pressure on them, as we have always done. And by the time they find it comfortable, they pay. We apply inducement on some of them, especially when the accounting year has elapsed, and there are no claims and there is outstanding premium we try to encourage them with a little discount to be able to pay their balance. Because if in year x a claim does not occur, it is not a guaranty that in subsequent year it may not occur. The possibility of it occurring is very high.
We are restructuring
Apart from its assets base, we realize that the company is an old one. We have established what we call, 'NEST', Niger Enterprise Strategy Transformation programme aimed at turning around the company, manpower base in terms of practices generally, office location, internal practices, and all that. We are restructuring everything now, to modernize and prepare for the competition ahead. It is in line with our policy. We always do some kind of renewal at intervals, and it has been helping us to keep the company abreast and modern.
Quite a number of companies established after us have gone into extinction, but we are still here getting stronger, and hope that we will continue to get stronger to provide the much needed services to our teeming customers and clients alike.
First and foremost, what we have done is part of a deliberate policy of exposing our staff by way of training internationally and locally, and prepare them for the challenges ahead. We have expanded our regional branch net work so that we can get closer to the door steps of our customers. We have also increased the number of our regional offices which will in turn help us to monitor the number of branch offices. We have also restructured our internal operations in such a way that we can be faster in terms of service delivery.
And quite a number of our products are also being looked into, we are renewing others, repackaging some of them, packaging new products that are tailored to suit the needs of Nigerians as opposed to the ones imported from outside. Going further, we have also worked on the psyche of our staff because in a depressed economy, the psyche of human beings whether staffers or not go down. So we are doing something too, by way of bringing experts in psychology to train the staff, make them understand what is happening so that they do not feel that it is peculiar to their company.