My Calabar Love: Calabar Festival musings by ex Kokolet & DEEVA, Sharon Ojong.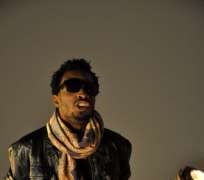 YAY! Christmas is here. I can smell it already. I am one of those folks that spend Christmas away from home, and by home I mean where the heart is; My heart is in Cross River State. This is where I grew up; this is where my family is; this is where I made my first friends and even though we've all grown up; changed and are all finding our own place in the world, we all know that Christmas in Calabar is the place to Unite again.
On the 30th of November the lighting ceremony kicked off to officially declare the city open for the celebration.
BOOM! The street and Christmas lights goes ON, the switch has been turned on and the spirits of those in Calabar are just as bright, because for next 32 days, the city will be full of life and celebrations; this is the most highly talked and attended event in Nigeria. Cross River State is recorded to have over 100,000 calabarians, fellow Nigerians, International tourists and stars during December and the number increases every year. CALABAR is the place to be this december.
Here's the itinerary for Calabar and thus mine. I can hardly contain my excitement, which I can wait to share with you daily on HiMagazine.TV:
The Calabar Carnival (Africas biggest Street Party), similiar to that of Trinidad n Tobego.
The Calabar Carnival Queen Pageant with participants from all over Nigeria.
The HIV/AIDS which holds on the 1st of December (World Aids Day).
An African weekend at the Obudu Ranch Resort.
Cultural and Film Festivals.
Boat Regatta, a Christmas Village, an African Food Expo, Fashion Shows, Carol Night, Golf and Soccer Tournament, Fireworks and more.
Christmas Camp for Children.
Children Carnival.
Musical concerts featuring Local, National and International artiste and just yesterday the Multi-Million Naira stage which has had International acts like Wyclef, Fat Joe, Keri Hilson, Akon & Panam Percy Paul to name a few rocked with Nigerian Artistes 9ice, Mr Raw, Weird Mc.