Thabo Mbeki begins Ivory Coast political mission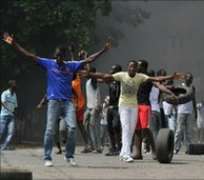 Former South African President Thabo Mbeki has arrived in Ivory Coast for the African Union to help mediate a political crisis, diplomats say.
Laurent Gbagbo and opposition candidate Alassane Ouattara have both sworn themselves in after claiming victory in a presidential run-off.
Mr Ouattara was initially declared the winner but the result was overturned in the incumbent's favour.
The AU has warned the crisis could have "incalculable consequences".
In a statement, the organisation rejected "any attempt to create a fait accompli to undermine the electoral process and the will of the people".
It called on all parties to "show the necessary restraint and to refrain from taking actions which will exacerbate an already fragile situation".
Several countries and international organisations - including the US, UN, France and the IMF - have backed Mr Ouattara as the true winner of last Sunday's run-off.
Conflict fear
Mr Mbeki arrived at Abidjan airport on Sunday morning, South African embassy officials said.
When he was president of South Africa, Mr Mbeki helped to mediate a peace deal in Ivory Coast.

it's just a brief episode - I want to tell you that Ivory Coast is now in good hands"

Alassane Ouattara
But he was seen by the opposition as being uncomfortably close to Mr Gbagbo.
The BBC's John James, in Abidjan, says it is difficult to see what scope there is for Mr Mbeki to mediate, as both men are adamant that they legitimately won the poll.
The fear is that if he fails to find a way out, rebel groups in the north who support Mr Ouattara will take up arms in protest.
Mr Ouattara was declared the winner on Thursday by Ivory Coast's Election Commission, but on Friday its ruling was overturned by the Constitutional Council, which is led by an ally of the incumbent, Mr Gbagbo.
Ivory Coast

Mr Gbagbo, who has the backing of the head of the country's armed forces, was sworn in for a third term in office at the presidential palace on Friday afternoon.

He repeated the accusations of fraud that had led the Council to discount large number of ballots in the north, where Mr Ouattara's support is strongest.

"You think that you can cheat, stuff ballot boxes and intimidate voters and that the other side won't see what is going on," Mr Gbagbo said.

He also said he had noted "serious cases of interference" in recent days, referring to international disapproval of his return to power.

"We didn't ask anyone to come and run our country. Our sovereignty is something I am going to defend," he said.

'Brief episode'
But within hours, Mr Ouattara, a former prime minister from the predominantly Muslim north of the country, was himself sworn in, at an Abidjan hotel guarded by UN peacekeepers.

He said the election had been "historic" and that he was proud of it, but that the last few days had been "difficult".

"But it's just a brief episode - I want to tell you that Ivory Coast is now in good hands," he said.

Mr Ouattara immediately re-appointed Guillaume Soro as his prime minister. Mr Soro had tendered his resignation in Mr Gbagbo's administration just hours earlier.

Mr Soro - who is the head of the New Forces rebels in the north - has warned that overturning the results threatens to derail attempts to stabilise and reunify the country after the 2002 war.

The political crisis has led to protests on the streets of the country's main city of Abidjan, with opposition supporters saying Mr Gbagbo's investiture amounts to a coup d'etat.

At least four people have been killed in election-related clashes in Abidjan this week.

Ivory Coast has closed its borders and stopped broadcasts of international news media into the country. An overnight curfew remains in place over the weekend.
|
Article source