WikiLeaks: Zimbabwean leaders both "flawed" and "brilliant"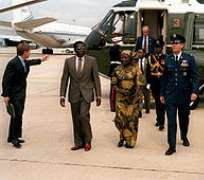 Zimbabwean leaders, Robert Mugabe and Morgan Tsvangirai are featured in the on-going WikiLeaks' (unauthorised) disclosure of classified American diplomatic cables.
In it, the former US Ambassador to Zimbabwe, Christopher Dell gives his candid opinion about President Mugabe and Prime Minister Tsvangirai, the two men currently locked in a faltering unity government.
According to the disclosures from 2007 cables, Tsvangirai was a "flawed figure," even though he is largely a democrat and a brave man.
"He is the indispensable element for opposition success, but possibly an albatross around their neck, once in power… Zimbabwe needs him, but should not rely on his executive abilities to lead the country's recovery."
Poor Tsvangirai.
Concerning the old man Mugabe, the former US Ambassador said he is ruthless, adding: "To give the devil his due, he is a brilliant tactician."
Mugabe could smile at this.
But Mr Dell also added that "he is fundamentally hampered by several factors: his ego and belief in his own infallibility; his obsessive focus on the past as a justification for everything in the present and future; his deep ignorance…"
How is Mugabe a tactician?
Probably, because he learned it as a guerrilla fighter, during the days of Zimbabwe's liberation struggle ( also called the Rhodesian Bush War).
Mugabe enjoys an uncommon longevity. He is right now, only four years short of 90 years. Most politicians nearing that age have long retired.
For ten years, Mugabe was a political prisoner (on charges of subversive speech) in the then Rhodesia, between 1964 to 1974, for opposing white minority rule.
While in prison, Mugabe's four year old son died, but he was not allowed to get out of prison for the funeral.
During the period of imprisonment however, he earned three degrees, including a law degree from London and a bachelor of administration from the University of South Africa by correspondence courses.
At the moment, it is thought he has as many degrees as you can count in five minutes. Some of the honours have been revoked by various institutions.
A look at Zimbabwe and its leadership today makes it hard to imagine that Mugabe used to have close ties with western countries, particularly the United States government and the British Monarchy.
In 1994, Queen Elizabeth appointed him as honorary Knight Grand Cross in the Order of the Bath, allowing him to use the letters GCB after his name (but not "Sir").
The honourary knighthood was however annulled in June 2008 by the Queen, in response to "abuse of human rights and abject disregard for the democratic process in Zimbabwe over which President Mugabe has presided."
Mugabe is certainly not one to keep quiet in the face of accusations by western government officials. The WikiLeaks revelations that has come up with his name is one thing he would refer to in dismissing criticisms.
Governments around the world are incensed at the unauthorised publication of the various diplomatic communications.
But WikiLeaks argues that the release of the documents has sheds light on momentous events like the war in Iraq and Afghanistan and the lives it cost which are yet to be accounted for.
That the current Zimbabwean leaders, according to the former US Ambassador have the combined characteristics of ruthlessness, needless flaws and some brilliance sheds lights on what the world already knows to some extent.