Yet another nervous election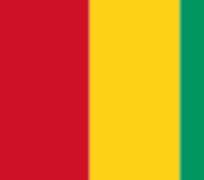 Another African country that has just held elections is Guinea, in West Africa. As with many other African countries, the first impression is that Guinea is a poor country. But look a little further, and the picture is both different and complex.
The country is the world's largest exporter of the aluminium ore bauxite, with vast reserves of diamonds, gold and other metals.
When France was the colonial power, Guinea exported bananas, pineapples, coffee, peanuts and palm oil. In spite of this wealth, it remains one of the poorest countries in Africa.
Take a look at the country's ugly political history since independence from France in 1958, and it partly explains why the nation's wealth has not benefited its people.
Ahmed Sékou Touré became first President and got stuck being president through violent repression, until he died unexpectedly in 1984.
That was followed quickly by a violent take over of power by another power-hungry man called Lansana Conté.
Conté also treated the presidency like his birth right, clinging to power like a bat, until his death in 2008.
Despite extraordinary aluminium rich resources, the two former leaders were unable to improve the desperate economic plight of their country.
On 23 December 2008, another opportunist emerged in Guinea. His name is Moussa Dadis Camara, and he seized control of Guinea as head of a military junta.
Protestors opposed the seizure of power on the streets in September 2009, expressing disgust at any attempt by Camara to entrench himself in power.
The junta responded by ordering its armed soldiers to attack the civilians. More than a few were killed in the rampage.
Finally on 3 December 2009, an aide shot Camara during a dispute about the turmoil of September 2009.
Camara was flown to Morocco for medical attention while defense minister Sékouba Konaté run the country.
So since independence, no one has yet come up in Guinea to take up legitimate power and use it the way it is meant to – for the benefit of the people.
Now, the final stages of an election for president has taken place – the very first since independence over 50 years ago.
In the capital Conakry, voters formed long queues and couldn't wait to cast their votes.
"Everybody is in a hurry to finish with the old system, money being stolen to benefit a few, the waste," retired doctor Saidou Cisse, told AFP news in an interview.
But there is a problem.
Former Prime Minister Cellou Dalein Diallo and the opposition leader, Alpha Conde both want the presidency badly, and their supporters have clashed many times since the first round of elections in June.
The run off that has just taken place was actually postponed twice for security reasons.
So it is just another nervous African election.
As to where Guinea goes from here, who knows?
The future, in view of its past is delicately unpredictable.