Soldiers "police" elections in Ivory Coast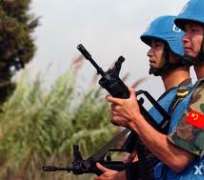 In many African countries, soldiers are required to patrol streets when general elections are held. It is an eye sore, but it is as if successful elections can't be organised with soldiers policing the process.
It is exactly the situation in the francophone west African country of Ivory Coast (more commonly known as Côte d'Ivoire in French), where presidential elections have just been held, with results expected later this week.
What is more? The declaration of results is often not the end of many elections in Africa, even when a winner emerges.
Declaration of elections results is almost synonymous with declaration of war.
"Africans are used to post-election tensions. We are making a first step but we have to cross our fingers for the results to arrive and that everyone accepts the verdict," says George Etrany, an author and songwriter speaking to Agence France Presse.
About 9,000 United Nations peace keepers stationed in Ivory Coast are among the soldiers policing the election and its aftermath. Their presence and intervention became necessary, following a bloody 2002 civil war.
The conflict subsided three years ago, after a political deal signed between the warring factions. Hopes were immediately raised that a fresh presidential election will bring about a more permanent peace.
Before the polls this week though, the much sought-after election was postponed a record six times – another reason why security is a sensitive issue in this election.
The military head of the UN peacekeeping forces in Ivory Coast, General Abdul Hafiz says his troops had been patrolling and are on high alert, even though the exercise has been relatively peaceful.
"I can notice a peaceful environment, a climate of peace, and I can see that people have come out to vote massively and there is complete peace that is existing in this sector and as well elsewhere that I have visited."
Fourteen candidates presented themselves in the election to be chosen by the over five million registered voters. The include forerunners Laurent Gbagbo (LMP), Henri Konan Bedie (PDCI-RDA), Alassane Ouattara (RDR).
Ex-rebel leader Guillaume Soro, now interim prime minister, was reportedly interested in standing as well, but at 38 years, he was disqualified to run – too young.
Ivory Coast has seen better days as the biggest exporter of cocoa in the world. That crop underpinned its relatively good economic progress.
But the façade of progress was under President Félix Houphouët-Boigny, who ruled the country from from 1960 all the way through to 1993. He was nicknamed the "Grand Old Man of Africa," a reference that quickly brings to mind the many other African leaders for whom being president is a life-long vocation.
As the country was built around him, his demise also meant Ivory Coast quickly deteriorated, starting with economic recession, ending in a civil war.
So it is true that Ivory Coast, prior to 2002 one of the successful countries in West Africa, especially as it is in the same neighbourhood as Liberia and Sierra Leone, where unspeakable horrors took place.
But the apparent success did not have a good foundation, which explains the rapid retrogression.
There is high hopes in connection with this week's election. Except elections don't guarantee much.
It might be a start towards something better – at least.