FATHERLESS KID WHO HAWKED MANGOES TO SURVIVE IS TODAY A COMMISSIONER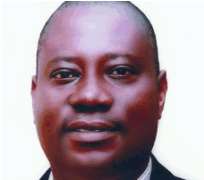 For over a decade, Ranti Akerele remained a dominant factor in the Ondo State Radio Corporation (OSRC) as a broadcaster, with a legacy of competence and innovation. Little wonder then, he was Commissioner for Information in Ondo State two years ago. But Akerele, who also had a stint as pulpit pastor, is a study in contradictions.
For him, life hasn't been a bed of roses. Among others, he had to hawk mangoes and sell maggi cubes in the streets of Ogbomoso to support his parents
Having gone through ups and downs in life with a happy ending, he sees himself as a favoured child. 'If you like, call me a miracle child,' he said. 'I grew up in an average home. We were not poor, because my father and my mother raised us in a commune in Ogbomoso, the Baptist Convention community. My father worked at the Ogbomoso Baptist Convention, and he was a school headmaster. A primary school headmaster then was a big person. But then, we had a small bungalow where I grew up, but it was like a palace then. My mother worked at the library of the hospital of the Baptist Convention. So, when I left school, I would report to her at the library, and I had access to many books, including the encyclopedia. There was a piano keyboard there that I grew up learning to play.'
On his first day in school, we he had an ugly experience that marred his joy. 'We were asked to pick waste on the field, while the senior boys were cutting grasses. Mistakenly, somebody cut my lips, and I had to be rushed home. For two weeks, I didn't go to school; I would cry and protest I didn't want to go to school again, because I got injured on the first day. But, looking back, God has really watched over my steps. I am an only child of my parents. At 10, I lost my father; by then, he had retired and had come home to my hometown, Ido-Ani, in Ondo State. Having started in Ogbomoso, I completed my primary education in the village.'
He attended one of the best secondary schools, Mayflower School, Ikenne, courtesy of his late uncle, Mr. Richard Akerele, a schoolteacher then, who rose to become the registrar of the Rufus Giwa Polytechnic, Owo. But his encounter with late Tai Solarin, who was then the principal of Mayflower left him with pleasant memories.
'The discipline I received from late Solarin contributed to whatever I am today, because he dealt with me several times. Oga Solarin, as we called him, was a total man, a man who believed in self-reliance. There was no impossibility in his language; there was no laziness in him. He ate with us three times a day, wore the same school uniform and canvass with us and he sang with us. If he wasn't in school for two hours, you would know, because we used to cut grasses and went to the bush together: He was an ever-present figure. I am grateful that Mayflower decided to honour me on December 5 as one of the outstanding old boys, in its annual event,' he revealed.
As an orphan, how did he persevere in those trying times? For him, it was a bitter experience. 'As at the time I was through with secondary education, I was the one taking care of my mother. She couldn't take care of herself, because she was half-blind, and it became a challenge. Even in her half-blindness, she was doing some petty trading; she could still afford, when I went home for Christmas, to slaughter a chicken for me. I had a happy childhood, though quite challenging. As young as six years, I was trading. We would wake up at 4am in Ogbomoso to pick mangoes which fell in the night, put them in heaps and sold them to lorries for 10 kobo or 20 kobo, which was good money at that time, so that I could augment my fees,' he disclosed.
His dad bought him a small Raleigh bicycle before his death not for fun but for a different purpose. 'I used it to hawk maggi cubes, which was a new product then, round the town. 'I would sell and make extra money. The entrepreneurial spirit has always been part of me. I have never relied on anybody to make ends meet; I like to make ends meet myself,' he remarked.
When he left Mayflower, he worked temporarily in the Exams Department of the University of Ife, now OAU together with Dele Momodu of Ovation Magazine. They have been good friends since their days in Ife. He graduated a year ahead of him. One funny incident he couldn't forget is his palm wine drinking escapade with Momodu. 'We did something crazy while at the university. It was during the exams period. During the break, we sneaked out to town to drink palm wine, and I was half-drunk by the time I came to sit for the other part of my paper. But the funny thing was that I did much better in the paper than the one earlier. But, now, I don't drink anymore because of my belief,' he recalled.
He studied Philosophy and History at Ife, which he still recalls with nostalgia. 'It was a total experience, having come from the background of Mayflower to a university that was regarded as one of the best at that time. Ife also produced my state governor, Olusegun Mimiko, who I did not know, but I met his name on ground, because, even though he was a medical student, he was into student unionism and people wouldn't stop talking about Rahman Mimiko. Ife was a breeding ground for activism and arts in those days. I got interested in the arts. I met Professor Soyinka from afar; he taught us General Studies. I even had an encounter with him. There was a time he got me arrested as the head of the Maja-Maja (the road safety governor). On that day, I was driving my uncle's car and must be driving recklessly, and he followed me everywhere until I stopped. When I saw him coming behind me, I prostrated.'
Days after graduation is always a great challenge. But for him, it was the beginning of good things to come. After he left Ife, he had his mandatory youth service at Imo Television, Owerri, as a reporter and later as a presenter. Though he was retained after the service year, he declined the offer because of his mother. 'As far as she was concerned, how could I, his only child, stay in faraway Owerri (you know there were those prejudices of a Yoruba boy living in Igboland)? But I had a nice time. I could only recollect fond memories of it. They (Imo people) were warm and receptive,' he noted.
Back to Akure, he got a job as a teacher for a year. Later, he got a job at the Ondo State Broadcasting as a presenter and producer. 'That was how my broadcasting career started after the youth service stint and I became the head of the Presentation Unit and Entertainment and Culture at various times, and I want to believe I was one of the best hands while there. Today, it is still a reference point,' he said.
In 1991, he went for a master's degree in Communication Arts at the University of Ibadan and did his one year Industrial Attachment with Insight Communications, one of the leading advertising agency in Lagos. He was to tender his resignation from OSRC on completion of his master's programme and started his private practice, Concepts and Actualities Integrated Advertising & Public Relations, which he later broke in two with a partner. 'We introduced the concept of advertising and PR practice to Ondo State. It was while I did that the late Ondo State governor, Chief Adeferati, brought me to the government as the Chief of Protocol. I dare say that I was the first person brought from the private sector into protocol, which used to be an establishment thing. I made a success of it.'
He was ordained and worked as a pastor for about nine years in the church, contributing to the establishment of new branches in Akure. At a time, due to the challenges of the office, the moment he was appointed the Commissioner for Information, he wrote the church requesting to step down as a pastor. 'Many people found it strange and some said it was backsliding. But I knew what God had told me. I had an accident in 1997 that almost took my life, and I spent seven months in and out of the hospital. This period, I received instructions from God. He told me clearly that I am a conduit pipe; my assignment in life is to take from where there is to where there is none; it is like a pipe that takes water from the pool to the dry land so that it can also get water. You can do capacity building both in the church and outside, because being in government is also one of the gifts in the bible. There is the gift of administration among the spiritual gifts, and I believe this is an area where God had led me to. I am doing what I am doing because there is only one God; God has kept me up till today directing me,' he said.
That is not the only angle to it, he said: 'I am excited because He is directing me to where I could function and be a support to a man whose vision I share, Governor Olusegun Mimiko. He is a man after my heart, because I see him as a man who cares for the ordinary man, a man who desires to be able to solve other people's problems; so you see him concentrating on people-oriented programmes. Some of these include the Mother and Child hospitals, Neighbourhood markets, re-engineering agriculture and I believe in two years time, Ondo State could be making more from the palm oil than what we are making from crude oil. We are creating new jobs.
'Unemployment is the biggest challenge in Nigeria. We complain of kidnapping and militancy when youths are unemployed. We are upgrading our school system in Ondo. When I see these things, I believe God has directed me to the right place. I believe that, if you are fortunate to serve in an administration or to serve with a leader who has the kind of vision like yours, it is easier for you to go in the same direction. We need to bring more of Mimikos and Fasholas to government. It is not about party; it is about individuals who will bring changes. We must become people-centred, lest there would be a revolution in this country, and all of us would pay for it.
The ace broadcaster is, however, disenchanted with a section of the Nigerian media. 'We need to properly educate our colleagues in the media that we should not stereotype government. There are people in government who have genuine intention that we need to project and also castigate those who have no genuine intention. The media is in such a position to investigate those who are doing well and those who are not. But what we find out is that the media man is no more the media man of yesterday who is investigative. The media has to be more investigative and pay more attention to developmental journalism to encourage those who are doing well and point those who are not doing well to the people.'
As a broadcast journalist, his most memorable times were most significant. 'I had the privilege of interviewing General Obasanjo when he was the president. I also had the privilege of interviewing General Babangida when he was the head of state. I remember the day I interviewed him, it was the height of military regime in Nigeria. He came to Ondo State to commission the Akure Airport, and the SSS men and his security agents couldn't allow me to speak with him. So, I laid an ambush for him. The moment he was near me, I spoke aloud, 'Mr. President, this is OSRC live!' And he walked to me, and as I was asking him questions and he was answering, I was jeering at the SSS men who wouldn't allow me to get near him before. I love being in the studio,' he remarked.
What is unique about him? He said after a pause for reflections: 'I am full of contradictions. I am not the stereotype people would expect of me. I am not like everybody. I am a child of God, but I will also listen to Fela, Femi Kuti, Olu Maintain, Lord of Ajasa. I was once a DJ. I know I am full of contradictions, but one thing you won't take way from me is that I love God and my family and I am a focused person with a high drive. You will notice that with the help of the governor, we have been repositioning Ondo State without making so much noise about it.'