Box-office war!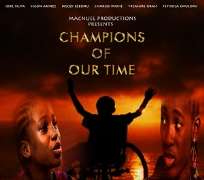 Three Nigerian movies jostle for top spot
Between Kings and Queens, Champions of our Time, Anchor Baby and Six Days to Christmas will be hitting the cinema soon to slug it out for the top spot in earnings at the box office. Between Kings and Queens which was produced and directed by Joy Dickson, a Nigerian based in America debuted in cinemas across the federation on Friday December 3 .
Same goes for Champions of our Time which was produced by respected filmmaker, Chidi Nwokobia. The two movies have two weeks to prove they are worth the cinema slot given to them by grossing maximum sales or they are yanked off for the much-patronized foreign movies which dominate our cinemas.
Anchor Baby, produced by Lonzo Nzekwe, a Nigerian filmmaker based in Canada has the toughest challenge in Six Days to Christmas, a movie produced by a Ghanaian veteran of sorts Shirley Frimpong-Manso. She's also behind the commercially successful Perfect Picture (Three Virgins) a movie that carted home five awards during AMA awards not too long ago.
Between Kings and Queens questions the purpose of achieving happiness in a society that would in essence, contest this goal. Between Kings and Queens will make you laugh and cry. It features Jim Iyke (Nigerian), Nakia Burrise, DaJuan Johnson, Trenton Rostedt all from the US.
Champions of our Time tells the story of two exceptionally brilliant young girls from opposing ends of the social spectrum. They both nurse ambitions of becoming the next winner of the prestigious St. Flairs Foundation Quiz Competition.
However, their quest unravels a web of intrigue, high-stakes politicking, corruption in high places, and a culture of neglect and discrimination against the physically challenged amongst us. Segun Arinze, Joke Silva-Jacob, Ngozi Ezeonu, Ejike Asiegbu, Ayo Adesanya, Charles Inojie, Treasure Obasi and Feyisola Ewulomi, Paul Adams, Ejike Metu all proved their mettle in the movie.
Anchor Baby is the story of an illegal immigrant couple Joyce (Omoni Oboli) and Paul Unanga (Sam Sarpong) who have been ordered by the U.S. immigration to leave the country. They decided to leave, but only after Joyce, who is five months pregnant, delivers her baby in the U.S. This will guarantee automatic U.S. citizenship for their child. Ignoring the deportation order the couple goes into hiding. Later, Paul is caught and deported . This leaves Joyce to struggle on her own to accomplish their dream.
But bureaucracy keeps getting in the way of Joyce achieving her goal and just as she is about to give up hope, she meets Susan Backley (Terri Oliver), a married freelance writer who offers to help in the form of safe, free accommodation until the baby is born. With the help of her newfound friend, Joyce sets out to make the American Dream come true for her unborn child.
Anchor Baby features Nollywood star Omoni Oboli , Ghanaian Sam Sarpong, The Dedd Brothers and Canadian actress/songwriter Terri Oliver.
With Jim Iyke, Joke Silva, Omoni Oboli and Damilola Adegbite featuring in each of the movies, the competition is quite stiff.