WHOEVER WINS PDP TICKET WILL UNITE THE PARTY — NWODO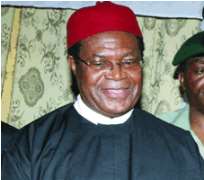 Nwodo
National Chairman of the Peoples Democratic Party (PDP), Dr. Okwesilieze Nwodo, says he is on a mission to reform the party and give it back to the people after whom it was named. He said that this assignment is so urgent that it cannot wait any longer, because of the division between the party and the people.
Nwodo revealed, in an interactive session with journalists, that despite winning massively in elections, the PDP had never won the hearts of Nigerians, a thing he blamed on the absence of internal democracy in the party.
The party's national chairman spoke on this and other things including the loss of a number of states to opposition parties at the court. He accused the opposition of ambushing democracy via the courts.
How would you assess the success or otherwise of PDP in the last 12 years?
I am not happy with the situation we have in the country, and the only platform I have is that of the national chairman of the Peoples Democratic Party (PDP), and I want to use it to bring about a positive change in the right direction. We don't have to make the same mistake that others have made. We should have learnt from them. When we formed the PDP, we had a vision; we had a dream. One of the things that were burning in our minds was that the military must never come back into politics in Nigeria. And we partnered both conservatives and progressives in forming the PDP. If you look at the list of people in G34, you will find the Ekwuemes and the Rimis, and all of us regretted the days of military intervention.
That was a core statement for us. The second thing that we had in mind is that no Nigeria should go to bed hungry. There is no reason for a Nigerian to be hungry when we are graded as one of the poorest countries in the world. It pained many of us, and we said never again. We said this time we're going to change the situation.  In order to bring these fundamental changes, we took certain core values, so eternal: integrity, reducing corruption to the minimum, so that we could improve the standard of living of people with the resources we have. We promised ourselves that we would manage our resources so well that we can make progress.
Almost 12 years down the line, what is the result sheet? This party that started with such high ideals that was anchored on the people is now something else. In giving it a name, we chose from 72 names. We called it Peoples Democratic Party because we wanted to anchor everything we were doing on the people. And when we tell our people PDP, instead of them saying 'Power to the People,' they say, 'share the money.' That was where we had got. We were winning elections, winning massively, but if you go down there, I don't think the people like us as much as we are winning, because we are not delivering to them evidence of democracy they expected.
What is responsible for this?
Where I think we got it wrong is in the selection of our candidates for elections. After Jos convention in 1999, we never had elective conventions again. We started consensus; we started imposition of candidates. So, the competitiveness that is critical to bringing out the best leadership qualities in our country, through internal democracy and competitive internal electoral process, was abandoned. These greatly affected the quality of leadership we produced for our country. Most nations would go to the World Cup with their first 11, and they may never come back with the cup, but can you imagine a nation that goes to the World Cup with its 10th 11? I think in some cases, Nigeria even went below 10th eleven. So, the central point of the message we are giving is that internal democracy must come back.
If we bring back internal democracy in our party, we want to produce our first 11 to challenge other political parties in general elections.  That is the legacy the current National Working Committee wants to leave behind, that we have been able to groom a new crop of leadership in Nigeria, a leadership that cares about the people, because for the people to elect you, they must trust you; you must convince them that you understand their problem, and you are going into power to solve their problems. That's why we are saying that all those aspiring to carry the flag of the PDP should forget the old tradition of coming to the national secretariat; they should go to the people; they should go to the people; go and preach your message to the people; if we provide a level playing field for our primary election, and you convince the people to vote for you, we will be proud to present you as our candidate.
Soon, with the approval of our National Working Committee, we will have our People Democratic Institute organize workshops in all the six geo-political zones, to make sure that those campaigning to carry our flags understand the new face of PDP; that they understand that we hold integrity extremely high, that we place very high premium on substantive issues that border on the lives of Nigerians. How do we give them water to drink? How do we give them power so that they can stay in their villages and generate industries and employment because there is 24-hour power supply in the countryside? How do we improve the quality of education that the Nigerian who is leaving school can be self-employed and if employed, can bring values to his employers? How do we stop our people from drifting to India and other Third World countries for medical treatment, when, if they get there, in America, in United Arab Emirates, in India, in England, in France, they are going to meet Nigerian doctors who are working in those places? Why can't we provide the enabling environment for other people to come and meet these Nigerian doctors in Nigeria?
Are you saying that you are bringing back issue-based politics?
After 50 years, look at the quality of infrastructure we have in Nigeria. If you go to Dubai, which started a few years back, you see how they have planned their country. If you go to other oil-producing countries in the world, you see how they have planned their countries. Our own oil production is now a problem for us. We have not used it to improve our lives. These are the issues we would want those who are standing elections under the banner of the PDP to tell us how they can do these things. We have done it badly for 50 years. How do we do it better now? I want to vote for that person who can answer this, and who has a clear vision of how he is going to do it. That is where the debate should be. Nigerians, after these years, are tired of somebody telling them that it is because he comes from the same place with me, that's why I have to vote for him, or that because we go to the same church, that's why I should vote for him, or that we belong to the same cultural affinity or whatever, that's why I should vote for him; no. That campaign hasn't taken us to anywhere in 50 years. I want Nigerians to vote for those people who can change their lives; it doesn't matter where he comes from.
It's time that we begin to push for the real issues, and we have to condemn where we are coming from, in no mistakable terms. If you are satisfied with where we are coming from, I am not; because I think we can do better.
There is a controversy about the National Assembly's intended provision in the planned amended Electoral Act. What do you think about such provision, especially as it concerns membership of party exco?
I myself believe that if the National Assembly does not change the excesses of the governors with the excesses of the National Assembly, but will bring about a balance in the political parties, there is nothing wrong with that.  If the National Assembly says it wants to check the excesses of the governors, only to bring the excesses of the National Assembly, we are not safe. What we want is a balanced National Executive Committee in the different political parties in the country. Therefore, I want you to moderate that debate that is going on at the National Assembly, so that the law that will come out can be equitable. That is why you are here; that is why I will go to the National Assembly with the members of my National Committee Working Committee, to plead with PDP members that the law we want to come out is a law that will bring about a more robust National Executive Committees for the political parties.
It seems there is a division in the PDP over 2011 presidency. Do you think it is possible for your party to get a generally acceptable consensus candidate for the presidential election, in the current setting?
I said something about northern consensus leadership. This game of politics is a game where every candidate employs any strategy that he thinks he will use to win. If any group of candidates employs a certain strategy to win, we wish them luck. Other candidates should also employ their own strategies to win. It's a game of wits; it's a game of strategy; it's a game of appealing to the electorate, to the people. So, the party has never come out to condemn any modality that any group of aspirants is using to win their primary election. If Atiku wins, what will Jonathan do? Of course, Jonathan will follow us and campaign for Atiku. Whoever wins the ticket of the PDP must be seen as a uniting leader, the consensus leader for our country; that's what we want to do. I don't want Nigerians to see the aspirants in PDP from where they come from or from which church they go. I want Nigerians to see our aspirants as quality leaders and whichever one of them wins our primary election is eminently qualified to take Nigeria to the next level. We are trusting that our delegates will do justice to our country when they vote.
But there are crises in the PDP…
It's unfortunate that some of our politicians have resorted to devising ambushing machinery in court. We frown at those our leaders who do not exhaust the internal mechanism of our party for resolving crisis, but rush to the courts. The courts, for goodness sake, don't know many things about the internal dynamics of the political parties, how we set up our executives, and how we choose our candidates for election is an internal mechanism of the party, and the party has a constitution that guides and an electoral law that guides it. But when people abandon all these and rush to court and get injunctions, against the party to be able to put up the machinery of the party, it is not in the interest of democracy. So as a law abiding corporate organisation, if they take us to court, we come to court, but PDP, as a part, has never taken any member to court because the member does not agree with the party's structure. But they can't take us to court and we will refuse to appear. We will go and defend ourselves.
But I think that if we go out of this room with a message that people should exhaust the internal mechanisms in their party and stop rushing to court, we will be delivering a powerful message.
Now we have problems in eight states, where INEC said we should go and do repeat congresses. We have done one in Anambra, and we are fighting in courts, whether it is right that we did it or not. We've had one in Imo, and next week we have one in Kogi. The other states have court problems; the court has just delivered judgment in the case of Plateau, and at the working committee, we will look at the details of the judgment and the way forward. But we can do without this resort to courts. I think we can do without it.
It seems that there is no supremacy of the party, as it ought to be. What's the problem?
I read Uba Ahmed in Sunday Sun . The problem I had with my party before I left was because of the fight for the supremacy of the party. We were the first people that said, no the party should be supreme… but we are also trying in our reforms to address this. I must be honest; we had the full cooperation of the late President Yar'Adua and now President Jonathan. They believe that the party should be supreme. These two leaders said that they were not the leaders of the PDP, but leaders of the PDP government. But the party chairman is the leader of the party, and since the party put the government in place, the party is supreme. That is what is obtainable in a democracy. We don't want a situation where politicians get tickets and are elected into office, but abandon the party. They are in office to execute the manifesto of our party. You are not there on your own and to do what you like. So, there are a lot of internal mechanisms that we are putting in place in PDP. Our Peoples Democratic Institute will become, in the near future, an international institute, where the policies of both the party and government will be thoroughly cooked and the party implements it through its members in government, and checks and balances and discipline are established.
PDP had had problems with imposition of candidates. What would Nigerians expect next year?
On imposition of delegates by the powers-that-be, our reforms, we must be realistic, will take some time, because we met executives that one person sat down and wrote the list, and that person is holding the structure of the party, and where he wants that structure to go, it goes. And we came and met these structures in their second year, and there is no way you can go about dissolving all of them legally in order to put new structures in place. Even where INEC said it was not properly done, for us to go and do this, repeat congresses, we meet a lot of resistance, because when a politician controls the structure, he can sit in his room and say, this person will go back to the Senate, this person will not go back, this person will go to the House of Reps or not. And that is why you see some of our members cross-carpeting.
My father was a minister in the Eastern Region, and people became minister in the West Minster parliamentary system because they were powerful politicians in their various constituencies. And it depended on how many votes you brought to the party that you got the recognition, because the votes counted, and you were respected because of how many votes you bought on election day. That's how you get into parliament, and if you have a strong voice in parliament, you become a minister. That structure has changed; if I sit down in my room and appoint you to the House of Representatives, you make account to me, and not to your people. And if you don't render accounts, I remove you next time and put another person who will render account to me.
So, until we are able to have congresses where all the stakeholders in the ward, defending on the votes they control in their wards become ward executives and those who control the votes in the local government become the local government executives and the states and the national, then you will have people who are acting independently, not dancing to the tune of the masters who put them there.
So, as much as we can, at this time, we will provide as much level playing field as we can; we will try to be as transparent as we can in the conduct of our primaries, but we know the constraints, because of the structure on which we are currently operating.
What do we expect from your primaries?
INEC timetable came out recently, and usually when INEC timetable comes out, the party will dovetail into it. Our tradition is that our national organising secretary will look at the timetable and make a proposal to the National Working Committee. From there, we will take it to NEC.
Recently, your party lost two states to an opposition party in court. What went wrong?
The tribunals are ruling against us, so we rigged elections? Yes and no. We are not here to differ with courts' rulings because anybody who goes to court tries to prove his own case. When the judge gives the judgment, we abide, as law-abiding citizens. If we don't feel like, then we go the next step and get to wherever we can go. The perception of Nigerians and foreigners was that the last elections were flawed, but PDP, as a party, don't go to the courts in order to win elections; we like to win elections in the field. We are prepared this time, not only to win elections, but also to win the hearts of Nigerians. So, our arrangement this time is that we will win elections and win the hearts of our people. But we will not wait to ambush democracy in the law courts.
There's a crisis in Enugu PDP, where you belong. What are you doing to resolve it?
There is no gainsaying that I am committed to internal democracy. The Enugu case, I think, is over-flogged in the press. And I think that the good thing is that we are all subjecting ourselves to the internal mechanism of reconciling our matters, and I think the press and the Nigerian people will be happy very soon how Enugu is resolved. There is no question of anybody trying to put his own machinery or whatever. I have said publicly that in order to assist me to showcase transparency, my own family has taken a decision that nobody in my family will run elections while I am chairman; so I cannot be establishing a structure when I don't have an interest. The question about whether I have got a card or whether I am in the register, is all part of our reconciliation process in Enugu. Emerging as chairman through the back door? I don't know about that. But PDP has a constitution, and the constitution was followed to the letter before I emerged party chairman, and if it was through the back door, I don't think INEC would accept it. They would have also written to the PDP to do the right thing in choosing their chairman.
What do you think about the National Assembly, especially as regards salaries and others?
The National Assembly members' salaries and allowances have been widely criticized, and I believe, also that it needs to be looked into. Whether we have checks and balances in the parliament in fixing their salaries, and allowances, I think the checks and balances should come from you and I. If we think that too is too much, that's why the press is there to criticise it, and members will take a second look. We, as a party, can also make an input, but all of us have to make an input, if we are not satisfied.  I think the check and balances should come from you and I. We can make inputs if we are not satisfied.
How far can you go with your reforms?
I am a firm believer in the reforms that I am preaching to you. I believe they will work. And the only way they will work is for you also to be convinced they will work and write about them in strong terms because it is the only way forward for Nigeria. If we become despondent, if we throw up our hands and say nothing will work, Nigeria will not change. If Dr. Nwodo talks about it from now till thy kingdom come, nothing will happen. But if I am able to convince you to join me, by the time we have concluded the 2011 election, Nigeria will have scored a higher percentage in internal democracy and general elections, and then we will be moving forward. Please, don't give up. I will never give up.
What is your take about budget in Nigeria?
I was a governor; I was national secretary, and now national chairman; and I have been involved in budget and in the implementation of the budget. We've not got the budget right. When I was national secretary, I lobbied that we needed to have a budget committee, whose only business would be budget. And that committee will, from the reading of the last budget, begin to interface with government and National Assembly to build the next budget. When I was governor in Enugu, when we sent out circular asking for budget inputs, the ministries would do their budgets, and I as governor had my vision, where I wanted to take the state. I would sit for two nights round the clock and every ministry, every parastatal would present their budget. And in front of the entire ministries and parastatals I would correct each budget one by one. At the end of two nights of hard work, and the budget reflects where I am going, we will bring in the leadership of the House of Assembly, and we go through it with them before we take it to parliament. So, we try to capture everybody's interest.
But we haven't got it right; we are not budgeting well yet; we are not budgeting efficiently. The government will make a budget, when they send it to the National Assembly, the National Assembly will now want to build constituency projects; what they will want to have in their constituencies, and by the time they have finished that, when the government sees that the budget is over bloated, it will not sign. Then it keeps going back and forth, and we will be going round and round until the day is almost ended. By the time the budget is presented, there will not be time to implement it.  I think that after 12 years, we have to do this thing better. There has to be a way the government and the parliament review the budget together, and it is ready on time, it's approved on time, and we have a full year to implement it. Some years, we don't have up to three months or four months to implement the budget. So that it not helping development in our country. I think we have to get budgeting right.