OFOEGBU'S CLFM CLOCKS ONE, HONOURS GOV. ORJI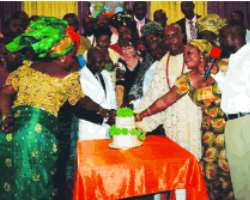 •Ofoegbu and others cutting the anniversary cake
For the charismatic paramount ruler of Umudiawa kingdom in Umuahia, Abia State, Eze Nnamdi Ofoegbu, on November 28, 2010 was special. It marked the first anniversary of his church, Christ the Light of Fire Ministries (CLFM).
Therefore, it was a moment to celebrate and take stock.  And, the royal father cum pastor marked the epoch occasion in grand style, amid praises, songs, worship and feasting with family members, congregation, friends and well wishers.
CLFM started as a prayer ministry in 2008 at his FESTAC residence. It featured a group of prayer warriors which he led. Their driving motive was to seek the face of God for all kind of challenges. The house of prayer which later morphed into a full-blown ministry was formally dedicated on November 8, 2009, with headquarters at 12, Balogun Street, Okota, a Lagos suburb.
For over five hours, the church was literally on cloud nine. Every available space was occupied by worshippers drawn from all walks of life and from far and near. Ofoegbu, spruced out in his snow white suit over a white-trimmed-jet-black shirt, in his sermon, 'By the prophecy of the prophet', taken from Hosea 12:13, told the congregation to be watchful, lest they are led astray by false prophets and prophecy.
He restated the mission of his ministries, which he said was to bring salvation to every soul that was in the prison of satan and translates them into the kingdom of undiluted word of God. The highlight of the celebration was the cutting of the anniversary cake, prayer for and presentation of the Royal Mantle of Continuity in governance to the Abia State governor, Chief. T.A. Orji, the special guest of honour, who was represented by Barrister Uche Ihediwa, Commissioner for Housing. Ofoegbu, flanked by two other royal fathers, Eze Oliver Ohanwe, Obi of Isiala Mbano, Imo State and Eze Phillip Ajomiwe Ndu 1 of Oriendu, Umuahia North LGA, Abia State, prayed to God to give the governor fondly called Ochendo 'the knowledge, wisdom and understanding to discharge his functions to the people of God.'